NEWCLEUS (feat. COSMO D & LADY E)
OCT 15TH 2005, GLOUCESTER UK
Photos by Simmo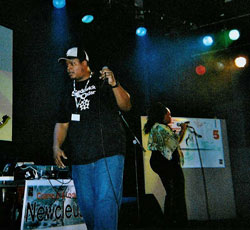 Where do I begin? Seeing NEWCLEUS live in the UK was like being smacked in the head with the contents of my childhood walkman. It was an unforgettable experience a) because the JAM ON CREW exceeded all expectations and were amazing and b) I thought it would never happen.
I mean, come on, this is NEWCLEUS, right? "diggy diggy danga dang diggy diggy". Don't get it twisted, I'm not saying that I thought Newcleus were washed up has-beens. I just thought the likelihood of seeing a UK gig by this group at this late stage in my life was an impossibility. Thanks to Speedy & Skelly and their sponsors, a childhood memory came straight back, live and direct.
Thoroughly professional throughout and definitely old hands at marshaling rowdy crowds, Cosmo D & Lady E put out some incredible sounds. The set was split into three distinct parts.  The first was Newcleus' more personal soulful works, followed up by three contemporary and upcoming cuts and wisely rounding off with the classics.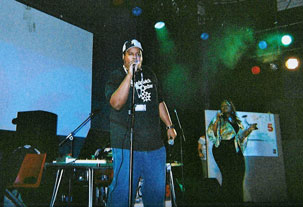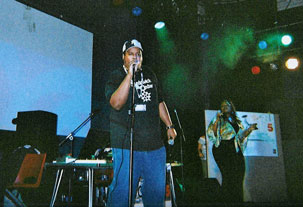 The highlight of the night for everybody was JAM ON IT (the last song!). Everybody, I mean everyone was singing it.  Sounded so good live. With Cosmo D doing Chilly B's verses too….
My fave of the night was I'M NOT A ROBOT, an underrated cut from the first LP, which had never been performed live before then. Also I thoroughly appreciated the rendition of WHY? which COSMO was wondering whether or not include.
It's a shame that his house record with Lady E  got no love. I felt the groove. But people were clearly there for the electro-funk and sadly the cut crashed and burned – unfair but c'est la vie.
SUMMER OF 79 was damn good. reminded me of SUMMER TIME by JAZZY JEFF… same type of good vibe reminiscing party track that was.
Unfortunately, the opening track AUTOMAN suffered from engineering and sound check tweaks, that made the joint too noisy and chaotic. It got sorted for IM A ROBOT .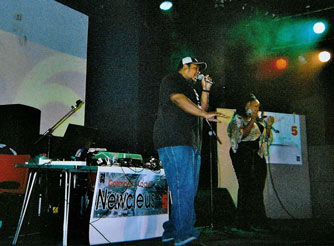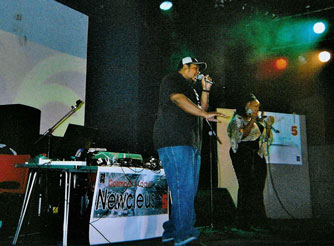 Overall, I was surprised at how tight and how good live it was. We were all wondering how it could happen with such a depleted line up. The original Newcleus had at least four people, right? But damn, they pulled it off.
I'd recommend that anyone stateside reach a NEWCLEUS show without delay because they still have it. It was a real treat and antidote to just see old school DJs doing their routines…. NEWCLEUS take you right back to where your heard it first…..
COSMO D & LADY E are cool peoples too. Happy to chill and sign records and cds and have their pictures taken. No heirs and graces here.
A true pleasure. And one of the few groups I'd venture out to see again.
Set List
AUTO MAN
I'M NOT A ROBOT
WHY?
DESTINATION EARTH (VOCAL)
MY LOVE TURNS TO LIQUID (House Track)
SUMMER OF 79
WE DON'T DO FUNK ANYMORE
JAM ON REVENGE (WIKKI WIKKI)
SPACE IS THE PLACE
COMPUTER AGE (PUSH THE BUTTON)
JAM ON IT