Haven't been to an Old School Show in over a year, so when I heard that Whodini was paying St. Louis a visit, I jumped at the chance to check them out.
The show was held on Sunday night after Thanksgiving at a club in downtown St. Louis called The Loft. I hadn't been there before, but it was quite a nice venue for a smaller show. Apparently they have a lot of jazz shows there as evident from the Miles, Coltrane and Gillespie posters that adorned the walls. The show was presented by 30andOverEvents.Com and a dress code was supposed to be in effect (although I had no trouble getting in with my Adidas Superstars).
The weather was in the 40's and a bit rainy so I didn't expect too much of a crowd and I'd say it ended up being around 125 people or so. I was there solo as we couldn't find a babysitter so my wife had to stay home.
A middle aged DJ was playing a lot of 70's and 80's tracks and walking throughout the crowd, many of whom were into the Eagles/Packers game that was on the numerous big screens. Around 9:45pm some action started around the stage and the show began.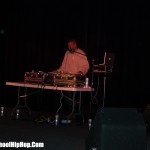 The rather small area in front of the stage was empty, but it was quickly filled as Grandmaster Dee begin setting it off on the turntables.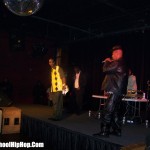 When the MC's took the stage, I was happy to see not only Jalil and Ecstasy (dressed in leather), but also Doctor Ice from UTFO with them.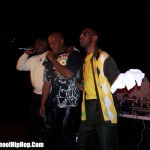 They went right into a call and response routine with zodiac signs and the crowd began to warm up. When the familiar drum track of "Friends" kicked everyone really got into it. They followed with "Freaks Come Out at Night" and which the ladies seemed to really enjoy.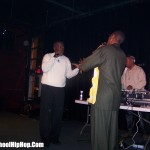 Doc Ice took center stage to the cries of "Roxanne", and he obliged. Strangely, however, he and Jalil ran through The Educated Rapper's verse from the song rather than his own. But it was a nice addition.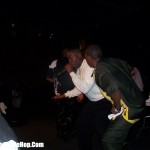 Next up was "I'm a Ho" which again went over well with the crowd singing the chorus. After the song, Jalil went off on the first of several speaking sessions to the crowd. He went on about his skeezer pleezin' days in the 1980's and how he'd have a hard time keeping up the pace now.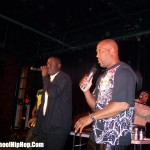 "One Love" came next and again the crowd sung along. Jalil again stepped out and spoke at length about the writing of the song. He talked about how he had just recently been in a tough relationship and had a lot of emotions about it, while Ecstasy had yet to fall in love so they had different perspectives on the topic. On a humorous note, he claimed he wrote the line "you're lucky just to have just one love" while eating a bag of Lay's Potato Chips. Their slogan, of course: "Betcha can't eat just one".
A rather surprising addition to the set was "Big Mouth". The crowd didn't get too into it, but Jalil had another tale to tell afterwords. He said he was on the phone in London to his girlfriend who was continually nagging him to put her name on a record. After numerous attempts to get her off the phone (it was running up his phone bill), he told her she had a big mouth and slammed down the phone. In the shower, he wrote out the first verse of the song and they recorded it later that day.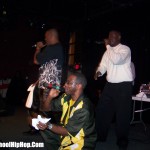 Next up was a rousing addition of "Five Minutes of Funk".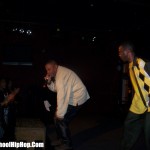 Of course, they had the fake ending and we all chanted for more and they gave Grandmaster Dee his time to shine by performing "Funky Beat".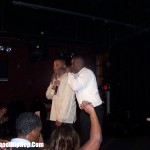 It was a perfect ending as the crowd certainly knew the song and Grandmaster Dee made the most of his time in the spotlight as the show closed.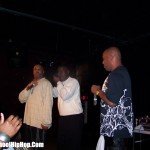 To their credit, they remained on stage for quite some time afterwords, letting anyone who wanted to come up and get photos and chat with them. A former co-worker of mine was doing security for them so we chatted for a minute.
Doctor Ice was really into the entire show. He just looked happy to be there and had a smile on his face the whole time. He was dancing and working the crowd any chance he could.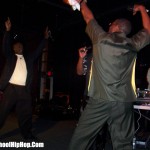 I was always partial to Jalil when I was a kid, but I must say the Ecstasy's voice was as crystal clear as ever. I swear he sounded like he had just recorded those tracks the day before.
Jalil's stories added a cool personal element to the show and you could tell they were all very appreciative of the rather small crowd.
Overall, it was an enjoyable show and evening. Hopefully it will be the first of many Old School shows that make it to The Loft as it was a good atmosphere all around.
Also a final shout out to the two other white guys in the building that night. Forgot to get their names, but maybe I'll see them again at a future show.