An Interview with B-Fats "Woppit"
Troy- So who would you compare him too, as far as all the other high powered emcee's of that time?
B Fats- I would compare him to Cowboy of The Furious 5. Troy was very good as a call and response emcee. He was a pretty boy with a finesse rap style.
Troy- So Ronnie Dee was the lyricist?
B Fats- Yes Ronnie was the lyricist. Ronnie was the brain behind a lot of that stuff. Ronnie didn't get a lot of credit like he should have. He was always in the lab saying. "nah lets say this." And Ronnie was a type of dude who could say s— off the top of his head that was crazy.
Troy- So that was when he followed you into Broadway International once The Disco Four broke up?
B Fats- Yeah it use to be B Fats and The Ronnie Dee show. We worked together for about 5 years at Broadway International.
Troy- So being as you rocked at Broadway so long I am pretty sure you had to remember the battle between The Crash Crew and The Fantasy 3 over the records On the Radio and It's your Rock?
B Fats- I sure do!
Troy- Can you give me or us the low down because both crews say they won!
B Fats- I remember that night but the difference between me and all those other people was I was always in the d.j. booth. I saw the battle, I also so that the crowd was getting unsettled.
Troy- What does that mean?
B Fats- Because they were going at each others head lyrically crazy on the mic. So now you got two different crews representing two different acts. The Crash Crew got at them! I ain't going to even front. To me that was the night, and if I have to go on record that was the night The Crash laid down their law, in my book. That was the night I personally said, "Wow, alright let me acknowledge there is a crew called The Crash Crew and they are not playing!" (B Fats starts laughing.) That night the Crash Crew had a lot of people with them. Fantasy 3 wasn't by them selves either but to be honest it was hard for me to absorb any of the bull s— that was about to happen due to the fact that I was just not apart of drama! I don't know how I can say this better but drama was just not my forte. You know I could see it unleashing, I can also see that tension was in the air but to be honest with you I was still naive to what the out come was going to be. Maybe I was a cat that would say, "Nah it's going to be alright ain't nobody going to fight." Until it actually happens then I am probably the first n—– to hit the floor.
Troy- So once the mics went down and the hands went up to fight you didn't see that part?
B Fats- No I didn't see that part. I just know they tore that Broadway International up. I remember my boss name Leon who was white closed it down that night after that. Leon and this black woman who he was romantically involved with were running the place. We had this other guy who was a bouncer type for Broadway International. He actually lived there. His room was upstairs on the second floor. He use to always sit on the balcony watching over the place. He would be there when they would close up at night and clean up the place also. I think he passed away.
But I remember some really good shows would go on in there like New Edition doing Candy Girl. We had them damn near every other weekend for 6 months. (B Fats laughs.)  The Force M.D.s would be there all the time as well. Strife with Set Off has come up there. Secret Weapon with, "It must be the music." There were many acts there.
Troy- Damn I always thought it was just hip hop I had no idea so many R&B acts came up in there.
B Fats- Another cat I remember in his early days who use to come there all the time. He wound up on that stage also. Something happen one night and he took off his shirt and he went into a rhyme binge. And he left us all with our mouths open. L.L. Cool Jay! It was just before he came out with his first record. L.L. was one of those cats that was skinny and he use to come in the club. He was mad cool with his Kango hat. He would be in the booth hanging out with us laughing and bull s——. He would be in there with me and D.J. Howie Dee. Me and Scott La Rock were the house d.j.s . KRS 1 performed their as well as Just Ice. See Eddie Cheba was before me. When he left the white boy approached me and asked me to spin at the club.
Troy- What was going in Harlem World for you?
B Fats- I didn't have much of an imprint there. I remember playing the place once or twice. But I probably played on the back of Donald. My brother was more affiliated with that click.
Troy- So what about Van Silk?
B Fats- Well with Van Silk I use to do Boatrides with him. He use to have a record shop on 125th street so I use to buy music from him so he would throw me a party here and there.
Troy- So now after Broadway International you go over to The roof Top?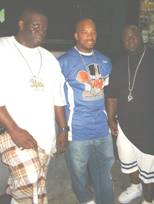 B Fats- I got hired through the manager Gusto that ran The Roof Top. We knew each other for the majority of our life. To take it further back Mr. Willie is a friend of mom dukes. (B Fats mother.)  Now Mr. Willie a lot of people don't know is the real owner of The Roof Top. How I got up there was when Broadway International was popping my brother Donald would come up and I would allow him to spin. But on the low because I really wasn't aware of it but Donald was doing studio work. I had to give my brother credit for first stepping into the studio. As he was doing it he was messing with Grand Master Flash, The Mercedes Ladies, D.J. Hollywood etc. They also grabbed a cat named Kurtis who was the owner of a label called World to World. World to World was the first label The Wop was first released on, and eventually sold to Spring Posse. World to World was also the first label to break Rob Base. His manager was Kurt Hamilton. So Donald was doing this studio work and came up with this record called Donald's Groove. When the Groove record started clicking Donald use to rehearse a place called The Roof Top! I went with Donald up to the Roof Top because he asked me to be his D.J. when he took this crack at performing. I was like we stepping to some hold other s—! I was like what you rapping!? When Donald's Groove first came out I wasn't feeling it. But never the less money was money. His first little show off of Donald's Groove was at The Roof Top. Gusto would let Donald practice with the girls because the Roof Top had another building to the right of the skating rink. That building was the office along with the recording studio. So during the practicing Gus and me gained a relationship. So because of that studio guys like a young Teddy Riley would come up in there doing things. So with me up there being a spectator while Don was doing his thing that studio thing grabbed my interest. Greg Gee was already there. What he was doing I am not sure. But I know that a year later I was running the studio.
Troy- So why did Kool Moe Dee leave when he was there and why did Roof Top records fold? I thought that was like a perfect marriage.
B Fats- Now that's the part that Greg played now that you said that. Damn you got a lot of information. When you say things it brings me back. This is s— I haven't thought about in years so when you say things I say o.k. now I can connect. (We both start laughing.) Greg and Gus had that label. Greg was the brains Gus was the money man. Now what happen was they sold Moe Dee to Jive records.
Troy- But why?
B Fats- I just believe that they felt they couldn't take the project any further. Plus Moe wasn't a dumb dude. Him another brother I like very much was his d.j. Easy Lee. In fact after Teddy Riley produced Moe he left. It was Easy Lee who ran that studio up there in the Roof Top later on. Teddy also produced The Classical 2 and then he did me. In fact I remember when Gus bought Teddy Riley his first new car. A little 2 door black Volkswagen. Then Easy Lee had the studio and I use to hang up there with him because he was mad cool. When Lee left he took all his equipment. Gusto bought everything all over again because he had money like that. Then I ran the studio from that point.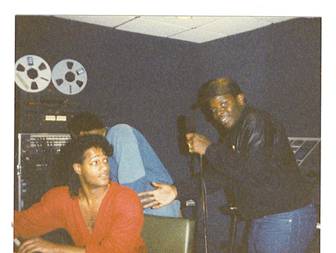 Troy- I remember you telling me Alpo and the other hustlers use to hit you off with money to bring the music out into the park. What was there influence?
B Fats- They didn't influence me. To be honest with you still I was naive to a lot of things. Drug dealing and drug using was not apart of who I was. That was not how I was raised. But I can remember them cats giving us money just to bring the music out.
Troy- So this is even before Alpo this would be during the early days of Guy Fisher, Small Paul, L.A….
B Fats- Ah man it was so many bad mother f—— around the way they would be like, "yo here's a hundred or two hundred dollars yo go bring the music out." I can remember us rocking the 143rd back park which was 194 play ground. I can remember when Butter Gram was alive he use to be with Alpo and some other cats and there were like terrorist around the block.
Troy- You talking about Pepsi?
B Fats- Not Pepsi Darrell! No not him, Pepsi was another off the hook mother f—– with his brother Coco and the other one! (We both laughed.) Him, Willow and all the rest I use to see around because they were into terrorizing the neighborhood. See you bring back names I have not talked about in ages. But cats use to throw money at us to play music in the park and we use to be like wow! They thing was just go bring the music out. We have the music popping on 144th street in the handball court area and the hustlers and tough guys would be playing basketball on the courts. I can remember a specific day when they were playing ball and the undercover detectives from the 35th precinct had parked there cars 4 or 5 deep. And you hear the cop through his police car speaker, "Pass the ball to Pepsi." See during those days the cops new you by your name. I remember how close the housing cops were to some of our families. One day I called myself getting into some s— and I went to run and the housing cop said, "O.k. Bowden I will see you at your house." (We both start laughing.) I stopped running, what the hell am I running for, officer Howard done seen me. Everybody knew who was who back then. I remember the hustlers playing ball like L.A. (Not L.A. Sunshine.) and the rest playing ball and they use to play for big money. So the music was back ground music because all the girls would come out and all the pretty cars all up and down the block.
Troy- So you and your brother orchestrated of all that! So people surrounded you and your brother like a mob
B Fats- Not so much like that I would say it was respect. I wouldn't say I had no Hollywood respect where people surrounded me and all of that. But once those speakers came out cats would be like "YA'LL COMING OUT!!!" 20 minutes later the park is packed.
Troy- Right it didn't take but minutes.
B Fats- Before you could hook up the tweeter box the park was packed. (B Fats is laughing.) We use to go to 1 to 2 in the morning rocking. Police didn't bother anybody.
Troy- I remember those days, it was the same in the Grant Projects. See I never seen the cops come inside out projects. To get to the music you had to walk all the way into the projects or drive your police car on the side walk to get inside. But we only had a few situations were maybe the whole precinct might have been needed.
B Fats- But now if you try and go pass 7:30pm they will take your s— and throw it in the paddy wagon.
Troy- True Story. How big was The Wop record for you?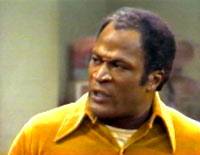 B Fats- I toured for about 2 years with that record. I went up and down the east coast with that record. I can remember being on the west coast and I bought red outfits and at the time I didn't know anything about no gangs. I remember being at this hotel for this show called Jack The Rapper. Donald put me up on it, we went there to L.A. for that twice. Some brothers approached me and said, "Yo dogs you need to go upstairs and take that red outfit off." I'm saying to my self what the hell you talking about, but then another kid comes over and tells me the same thing. Man that hip hop thing was crazy I remember John Amos from Good Times wanted to be rapper for a minute and I recorded him. He would come from Jersey and me and my brother would record him in the studio.
Troy- Damn I would have never guessed that.

B Fats- Yeah so like I said the Wop kept me on tour for like 2 years and I remember seeing Eddie Murphy's brother Charlie and his friend on tour with us. One would sing while the other rapped. It would be me, Heavy Dee, Alison Williams, Oran Juice Jones and Russell Simmons hanging out although I wasn't on Russell's label. I was the opening act for Vesta for about 3 months. It would change up and for a few states I was in acquaintance with Jazzy Jeff and The Fresh Prince. Will Smith. We were on tour for about 2 months straight.
Troy- You ever tried to push up on Vesta while you were playing with her?
B Fats- This is going to bug you out. I remember me and Kool Moe Dee was on tour together as well. They use to tease me because I remember when Moe use to say "Fats is the only n—– that would bring a dinner to a meal." (Troy starts laughing.) At first I didn't understand what he meant by that….
Troy- Yo break it down because he is a funny dude too. He got jokes.
B Fats- Yeah he had jokes on my ass. Because being on tour was totally new to me. I had my girlfriend with me on tour and them n—— just didn't understand that. She was from your projects. Stephanie Cunningham.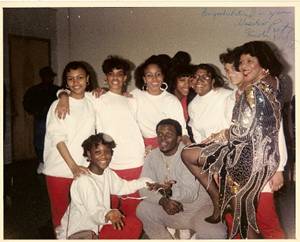 Troy- Well I don't blame you she is beautiful. Always have been always will be.
B Fats- I use to take her on tour under the description of dancer. (B Fats laughs.) But that was really my girl. So when Moe said that Him and Heavey Dee and others fell out laughing. Then I don't know who explained it to me but the brother said they talking about you bringing your girl. (Troy starts laughing again.) Because after each concert the hotel room would be flooded with chicks. "Fats is in his room with his girl!" I remember going to visit Heavy Dee right next door and he got one chick cutting his toe nails and another one combing his hair another one messaging his neck and I had my girlfriend. (B Fats laughs.) So they use to get on me about s— like that. Another time me and Will Smith aka The Fresh Prince were in Little Rock Arkansas. Heavy Dee was there too. It seemed like me and Heavy Dee constantly stayed on tour together. We were real cool together. He had Mr. Big Stuff I had The Wop. Me and Will Smith got into it because in my days being a fat dark skin kid wasn't cool you feel me. But I was the fat dark skin kid that had to learn how to snap!
Troy- (Troy starts to laugh.) Yeah I know what you mean. Your whole life will change once you figure out that art of snapping.
B Fats- Yes they will eat you if you not ready. So I was like n—– let's go.
Troy- exactly I was trying to tell this girl the art of snapping is you just go at em. Just throw everything at them and something is going to hit the wall and when that one hits its going to build your confidence and it will set you off where that dude you going at won't even be able to talk. (B- Fats is laughing.)
B Fats- That's it…Me and Will Smith went at it and we rocked the whole hotel.
Troy- So Will had some good ones too?
B Fats- Yeah he was good too. When Will became famous I was proud of him because I had the opportunity to experience a different side of him that a lot of cats didn't. I knew he was a funny dude, because I was a funny dude. Still today when I get in my moments lets go money! (B Fats laughs.) It wasn't just Will that was funny on tour, Moe Dee was very funny. Mike Cee of The Fearless Four had jokes.
Troy- To be honest all of those dudes in The Fearless Four are funny.
B Fats- You right but especially Mike and Crazy Eddie. Special K…that n—– got jokes. (B Fats laughs.) See all of them guys use to hang around Bobby's Record shop on 125th street so we were laughing and joking long before I went on tour with The Wop Record. Me and Spoonie were pretty tight also. When he had the record The God Father out he took me on the road with him for a couple of months to D.J. for him. I ran wild with him. We even had Ronnie Dee with us. The last joint we did was Roseland in downtown Manhattan. I haven't seen him in years until about 2 years ago when he showed up at the Celebrity Basketball game for VH1. I have been the D.J. slash sound man for the last 5 years of those basketball games. When we seen each other all we could do was laugh, it was mad love. (B Fats laughs.)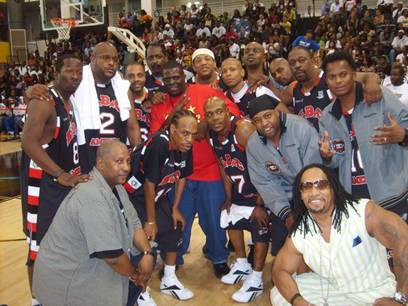 Troy- So whats good today B Fats?

B Fats- Well today I find myself after all I have been through as far as the transitions of life I am becoming more of an activist for young people as far as giving them something to look at. I am finding that a lot of organizations are reaching out to me such as The Harlem Children Zone.  See the killings in the neighborhood are just getting ridiculous. We just lost a young boy by the name of Scotty. He got killed up on the avenue at 13 years old. He was suppose to be going to get a pair of sneakers and lost his life. Scotty is in directly connected to my family because of the fact that me and his moms grew up together in Drew Hamilton. So when you grow up with some one for some many years it's as if one of your own kids were harmed. So I have seen this outreach thing happen with me because I am becoming more Godly orientated. I am in the process of getting to know God better.
Troy- Praise God on that.
B Fats- I have been though a lot due to the street life. Last year I was diagnosed with cancer. I was just laughing with my wife telling her what a difference a year makes. I had just got my first chemo therapy two days before my birthday last year. Today I beat cancer I know longer have it.
Troy- So it's wiped out. Praise God once again.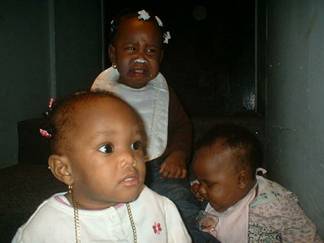 B Fats- Thank you. So with that I stand up with just a different out look on life. Today I look at my grand children I just feel I have no time to be playing any games with the time God has given me on this earth. So I find my self talking more then ever to the youth. I am talking to the boys as well as the girls. I am doing a lot of Christian related work.
Troy- Which church do you attend?
B Fats- It is called Glorious Praise. Now check this out one of my brothers is the pastor and I play guitar in the church. (We both start laughing.) My other brother plays the drums.
Troy- I know your mother is smiling from ear to ear!
B Fats- Yeah, yeah so it's like the old roots are still up, but in a gospel type fashion now. So yeah we play in the church and we praise God together. I am starting to get popular again from the work I do at the Rucker games. Both my sons are D.J.s so they keep me current. I remember being on a boat ride and Reggie Wells said to me dam man what you trying to do to me! I said what? He said dam n—– you eating my a—up here! That's me. I will hit you with the old school but there is a lot of good new music out. The only difference between me and a lot of other d.j.s is that I am totally orientated on some knowledgeable music that is safe for my youth. I am not going to play anything that says suck my —-, kiss my —!
Troy- Right I feel you I hate that tone of music as well.
B Fats- so when you come to me with material I will say listen man this is junk. (Troy starts laughing.) "Yo why you going to say that about my s— Fats!" I say "it don't work for me!" It is not what I represent today. So I would say God is good and I am so grateful for the opportunity to have experienced the things I have experienced, the ups the downs and the indifferences. And it has made me the man I am today. Because all the things I went through in life I have just started feeling like a man. That might sound crazy to you.
Troy- No it doesn't because there are times were I too say I am the best man I have ever been in my life today.
B Fats- I am going to tell you something I always felt like an underdog in this industry although I played a significant part in the birth of this whole s—. And I guess that is because I never been a flamboyant type dude. I was very honest with you when I told you,  "Yo I was a nerd!" I was slow, slow going. Even with the popularity. Even when I had the hit record called The Wop I was slow. I was not any smooth dude with a bunch of chicks in the hotel after the concert. I was the n—– that had his girl friend on tour with him. N—— told me I bought sand to the beach, I bought a meal to a dinner. You know s— like that. (We both laughing.) and still today I live that way. I feel if I can help one person today then I have done my job for the day. Peace
Troy- Thanks B Fats.
B Fats- No problem and thank you also.
I want to thank my man Renny Rock who put me on to B Fats.
Tell my sons Troy Jr. and Shemar and beautiful wife India I love them.
Praise God and God Bless you.
Thanks family.