Troy- Now there were times when you guys had a live band rocking with you. How long did that last?
Will- Off and on, but it didn't really go far because of the way we traveled. It was hard to travel with a band because sometimes we would do places that were not equipped for it: Like we will go from Madison Square Garden to a club! So we could do the Garden, but when you get to the club, you don't know what it is like until you get there and then we would be like, "Oh this can't work." But now you got five or six people from the band standing on the side with nothing to do.
Troy- And from where did you hire this band?
Will- It was just people that we knew. Our manager Dennis would come up with these guys who were successful jazz horn players and keyboard players.
Troy – So a few studio musicians?
Will- Right, and the names didn't mean anything to us at the time, but if you told somebody "such and such" played with us, they would be like "What?!" …But like I said, we would go from arena to clubs and it kind of throw us off because we got five or six players on the road that we have to pay that ain't doing nothing. But because they are there, they want their money.
Troy- So what inspired all these beats? Did you and Barry produce all these beats?
Will- We all did. Doug, me and Barry produced some, we all got down. Then we bought in outside producers; it just depends on where we were trying to go at the time.
Troy- So what was your favorite cut?
Will- "Play This Only at Night" was my favorite.
Troy- What inspired that?
Will- Well first of all, I played all of that. I did the whole song. A friend of mine named Chubby thought Doug should hear it.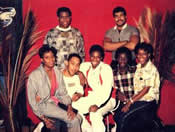 Troy- Chubby Chase from 122nd Street and Manhattan Avenue?
Will- Right.
Troy- Good brother. He used to go to Brandies High school with me.  In fact, me and him used to trade tapes back in the days.
Will- Yeah, that's one of my closest friends, and he got those tapes from me, but he was also the cat that got me that construction job when I heard my song on the radio. And when we blew up and went on our first tour bus, he was like, "I can't let this bus go without me."  So I said, "I got you."
So he was the one that told me, "Yo, you got to let Doug hear this "Play This Only At Night"." I said no, because I thought it was a weird song.
Troy- But didn't you guys get that from the movie Phantasm?
Will – That is where I got it, but I played all the stuff over.
Troy – Yeah, because the original is kind of faster.
Will – Right, but it was a weird tune, but I liked it. So I played it over because I wanted to hear it myself. So Chub was like "Let Doug hear it." Doug heard it, but he couldn't think of anything to say to it, but he felt he had to say something off of this. So what happened was he said he is going to try something different: and he just talked through the whole song, and did a rhyme all the way at the end. "Play this Only At Night" was my song because I did everything on it.
But none of us really had our own song like, this is "your" song. We all got down together, like, "Cut That Zero." Doug and Barry made up the beat. I put all the reverb parts and cuts in there. …One day I was in the studio by myself because no one told me the session wasn't happening that day. So while I was waiting on them, I made all the cuts myself. So when everyone finally did come, and they listened to it, we ended up leaving it in. I was more of the "sound effects and adding on" of the three of us.
Troy- I have a question I've been wanting to ask for a long time: Why are The Get Fresh Crew's albums and cds not in stores and I can only get a bootleg version off of the internet?
Will- Well a lot of the labels don't exist anymore. Reality (Records) is not putting out records anymore and G Street is gone. So a lot of record labels that we were on don't exist any longer. That's why you can't get them anymore. The only way they are going to come out is if people buy the rights to them and put them out somewhere else.
Troy- So something like "All The Way to Heaven" you guys can't reproduce yourself and put it out there on your own?
Will- No, because we don't own 100% of the rights.
Troy- So you guys can't negotiate with the label? About five years ago I asked someone why I can't find your records in the stores and this brother told me how Doug and the label owner were not in agreement with how it was going to be handled, and that the label owner had more power over the situation.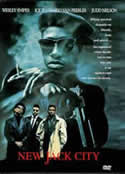 Will- Well the label owner wasn't giving any of the label rights away because when anything happens, he still gets money. Like if we do Soul Train awards, and we do that song, he gets money. If it comes up in a movie, say like the Wesley Snipes joint "New Jack City", he got paid from that also. But if he gives that up, he is going to lose all of that.
Troy- So can't you work out a contract with this owner were he can still get his little piece, but let's start selling these albums and cds again because people want them?
Will- True, but sometimes it's not worth it. But say if he was to give us the rights, now he wants you to do everything. Like now you got to go get it pressed, you got to do this, you go do that. But I am still going to like get 60%!  (Will chuckles) So you be like, "Damn, is it worth it?" I rather sell my piece to someone else, and let them do it, and then just get money like he is getting.
Troy- How did you and DJ Stevie Dee get so cool?
Will- We met Stevie Dee because he used to come to all the Mike and Dave parties. We all became friends because we were DJs. So we had our own DJ click where we would have deep conversations and stuff about the art and music. Other cats that are close with me, Barry, and Stevie Dee were guys like Diamond Dee, Shawn Cee and all the Executioner cats. All of us used to be together, and we all hung out together. But Steve was the cat that was going to all the contests, …but Barry was in them before Steve, and Barry came in second place to Jazzy Jeff. Steve later got in that same contest and won it. In fact, Steve won like three times in a row. And I am referring to the New Music Seminar. They later took the rhyming and human beat box part out and just made it a DJ competition. It got real big, so big they took it across country and overseas, which is now called the DMC!
Troy- Right. How did you and Rob Base get hooked up to do the cut DJ Interview?
Will- Well Rob is from the neighborhood in Lincoln Projects. And they used to do stuff in my house because I had a little studio in there.
Troy – Down on 118th Street?
Will- Yeah.
Troy- Moms never got upset about that?
Will- No. My mother was gone in the day time, and I was out of school by this time, so that was what I was doing with my time.
So they would come through and we would put stuff together and make up stuff because now I am that cat with equipment, and Rob Base and Easy Rock are like what me and Doug used to be: on the come up trying to find somebody that's got it. So I was like the Teddy Riley of that time zone. Cats were like now we got somebody's house we can go to do this stuff. So I used to let them come to my house and do it, and we actually made up a few joints at my house and we went to the studio and laid them down. And Mike and Dave had a label and they put out all the cats from Lincoln Projects. They made away for all the cats in Lincoln to make some songs.
Troy- What's your thoughts on the record, because it was nice, but it was one of those slept on records?
Will- Well that album at that time was a good concept by Mike and Dave, but it was just them putting it together. They had no distribution, no nothing. Their label was called Star Maker Records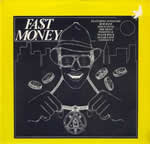 Troy- Magic Dee was telling me it was produced too fast.
Will- He's right, because we didn't have any time, and they didn't have the money to spend like that. Mike and Dave was like "We got four hours to make this song." Mike and Dave wanted to give everybody four hours. There was like six other cuts by people, and you had to record and mix it and everything else in four hours! …And if you late, your four hours have started! If you a half hour late, you have three and a half.
But you have to understand, Mike and Dave took us to a lot of places and we met a lot of people from different communities. That was how we met Biz, through Mike and Dave. You know back in the days Mike and Dave had a system called the Mace Monsters? I later on bought all that stuff from them.
Troy- Yeah, I heard about those Mace speakers that you can hear from very far, like from the Harlem River to the 2 train on Lenox Avenue.
So does Dennis Bell and Ollie Cotton still run with you guys today?
Will- Well Ollie Cotton still runs with us today whenever we need him because he was a great engineer for us. He used to do our live sound for us on the road.
With Dennis, I think we kind of out grew him. Meaning it got a lot bigger than where he could take us, so we kind of had to get with someone who could take us to the next level. If you noticed we never did the Grammys or things of that nature, and that was because we didn't have a manger that could get us in those doors, even with the record being what it was.
Troy- So you guys never thought about going over to Def Jam with Russell Simmons?
Will- Well we did take the record to Russell before we took it to David Loucasy who owned Reality Records. When Russell heard "Six Minutes", he didn't think it was going to work.
Troy- You guys knew as soon as you heard it that it was going to be something. He heard it, but didn't think so. Isn't that something?
Will- Well he was entitled to his opinion, but he wasn't the only one that felt that way. We were in a club one night and people were like, "It's alright but you need to do this and that to it." A lot of people were telling us what we should do to change it a little here and there. We were playing the mix version that you hear today and they was like, "It's OK, but do this to it!" Cats were even telling us to take the salt shakers out because it sounded annoying. (Laughter)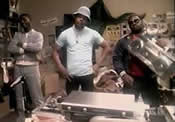 What's amazing is when you see the part in "Krush Groove" where LL busts in the room with his radio for Russell and them to hear him, well we did that before the movie. That came from us. Only thing is we told Russell we were coming. When we got there I put my radio on his desk and we played the song and Doug was doing his routine along with it. Then we later saw it in the movie. I don't know if he got it from us, it could have been from anything, but we did that.
Troy- So over the years when you guys would see Russell what would be his response? Or would you guys tell him, "See, that could have been you behind that!"
Will- Well Russell would be like, "It's all creativity man, you never know. Everybody has their own opinion on what they think will sell and at that particular moment I didn't see that."  He also said, "I also didn't have the ear that I have now. I know I was hungry and wanted to do stuff, but sometimes people don't see like they would like all the time and hind sight is 20/20 for everybody."
And check out Bill Stephney. He passed up on Wu Tang to sign another act that didn't do anything. You see where Wu Tang went.
Troy- Speaking of "Krush Groove", how did Doug get on with "Beat Street"?
Will- Harry Belafonte heard about him doing the beat box, and the Treacherous 3 said they knew him and they knew how to get in contact with him.
Troy- What are you doing today musically?
Will- I have a talent agency. I do bookings and everything else for everyone and its called ChillTown Entertainment. It's here in New York, as well as in North Carolina.
www.chilltownEntertainment.com
Troy- Thank you Chill Will I really appreciate the interview great information.
Will- Thank you also.
I want to thank my man Damon, Doug E. Fresh's cousin, who put me in contact with Chill Will.
Shbzz7 thanks for your editing job.
I have to tell my boys Shemar and Troy jr. I love you.
And my very beautiful wife India.
Praise God and God Bless you all.
www.oldschoolhiphop.com