Troy- Was Louie Lou Spanish or Black?
Mr. Hyde- He was black, blacker then this mother f—– stove. (Troy starts laughing.) I think he died.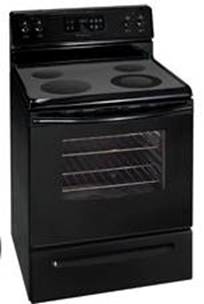 Troy- (back to seriousness.) Sorry to hear that. How did you guys go from D.J. Louie Lou to D.J. Ronnie Green (Aka Captain Rock later on.)
Mr. Hyde- More money and we didn't have to carry equipment any more. What happen was we battled Ronnie Green. Ronnie Green had a crew called Bat Man and Robin at the time.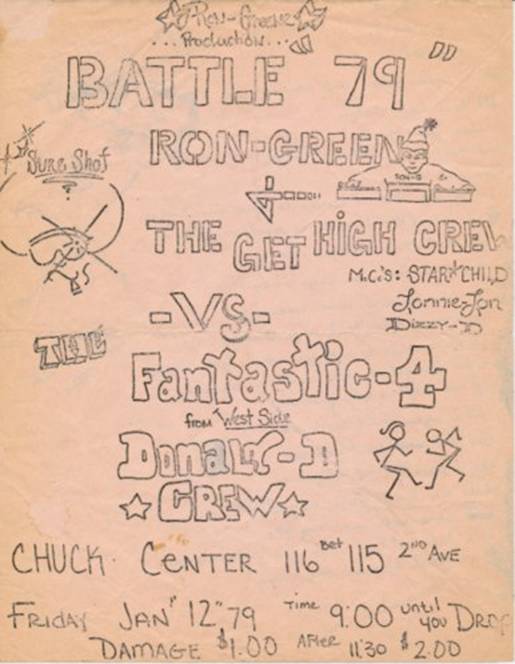 Troy- Damn I never heard of this crew. Who were the members?
Mr. Hyde- One of his boys was Robin. Ronnie was Batman the d.j. and the rapper was Robin! I don't know his government name. But I remember we battled them on 118th and First Avenue. Listen you know how you have an archer set and you fire into hay, well I remember big piles of hay in this mother f—— club that we battled them in, and I don't know why!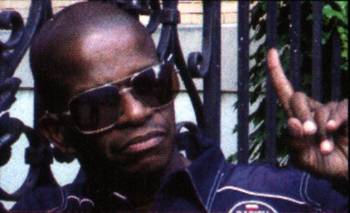 Ronnie Green
But I remember seeing it and we ripped them n—— so hard that Ronnie Green and them n—– came to me and Andre and surrounded us afterwards. We thought they were going to f—- us up because Ronnie Green was a big cock diesel n—– back then.
Troy- I remember Ronnie Green very well from when I use to play for the Riverside Warriors for one year and he was playing running back for us.
Mr. Hyde- Yes and I love Ronnie Green by the way. So they got us locked in this circle surrounded, Ronnie Green said whatever Louie Lou is paying ya'll I will pay ya'll double and ya'll don't have to carry any equipment. We said bet. (Mr. Hyde laughs.)
Troy- So how did Louie Lou and his entourage feel about you and Andre leaving to go to Ronnie Green?
Mr. Hyde- It didn't matter because we were beefing a little bit with Louie Lou because we were like we the stars. See at that point D.j.s thought they were still the stars but people came to see us.
Troy- So what year would you say this was?
Mr. Hyde- I was about 16 or 17, so that would be about 1978 or 1979. After awhile Louie was cool, it wasn't no beef once he seen we were not running with him anymore and if it was a beef Ronnie Green would have been the one to handle it. (We both start laughing.) And see Ronnie wasn't gangster or nothing like that but he just wasn't having it! Plus he had some crazy n—- around him too. Later on Ronnie Green was running King Towers summer basketball tournament.
Troy- I remember seeing him refereeing the basketball games as well as doing the books for the games along with funny ass Gumby.
Mr. Hyde- Well all the tournaments ran out the King Towers Center so Ronnie was like a Donald Trump type n—–, ghetto style for us. We had the beach chairs on the side lines of the basketball courts with people all around, "Shout outs to Jekyll and Hyde", all kinds of fly s— was jumping off.
Troy- The King Towers basketball tournament was the bomb.
Mr. Hyde- Yes, and we were like Stars there. Guy Fisher had a team in there.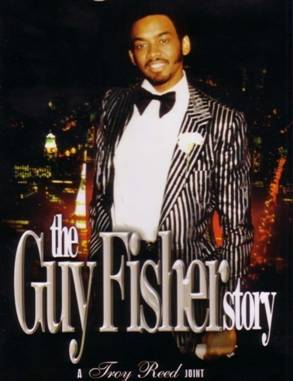 My first girl friend Wanda Major who I was in love with was walking around with a sweatshirt that said Mrs. Hyde. So those were some beautiful days for us.
Troy- Although you guys continued to call yourselves Dr. Jekyll and Mr. Hyde you also went under the name The Get High Crew once you got with Ronnie Green.
Mr. Hyde- Yes but that was more Ronnie Green and his boys.
Troy- So now you guys take it to the next level and go across the street from King Towers into Harlem World!
Mr. Hyde- I think what happen was we broke away from Ronnie Green and we really started getting real paper. And when I say real paper, people were hiring us to do big parties. I think what happen as far as us and Ronnie and his crew, people would pay us like $500 and we would have to split it with the crew. We were like f—- that people were coming to see us. Although Ronnie was the main guy from his crew he had like 7 other people with him but they were all just body guards you know what I am saying, just dudes hanging on. It wasn't like they were doing anything, carrying equipment, behind the ropes making sure s— didn't happen, that was the crew.
Troy- How did you and Andre get to Harlem World and be a part of The Harlem World Crew?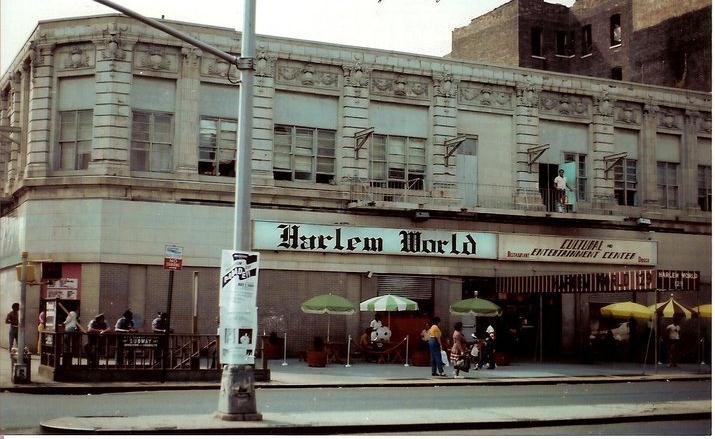 Harlem World 116th street Lenox Avenue
Mr. Hyde- What happen was there was a rap competition for $1000.  Everybody was on the bill. But what happen was after the show they really liked us so we use to hang around the club and it started to feel like home for us. But in terms of rocking the crowd and everything it was cool and it was more sophisticated of course because it was Harlem World but it wasn't as energetic as like The Audubon or The Renny. (The Renaissance Club.)
Troy- So now you guys are making a name for yourselves, did you also perform up in the Bronx at The T- Connection or say Ecstasy Garage?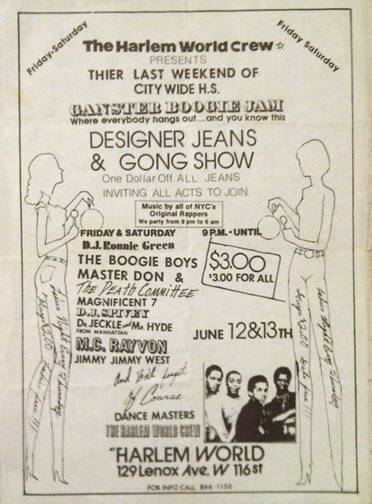 Mr. Hyde- A little bit but not really once we did Harlem World we never went out of Harlem too much, but I forgot we did Star Dust Ballroom a lot up in the Bronx. We never did Black Door or any of that. See Harlem World wasn't just about a hip hop party for us we use to go in there and watch the close circuit fights. Like one night we caught the Thomas Hearn's Sugar Ray Leonard fight.
But to be honest the edge started falling from us because we were growing up. But what happen was we met the Aleems and they were down with Fat Jack the owner of Harlem World.
Troy- I am surprise to hear that, those are the brothers that made Release Yourself.
Mr. Hyde- Yes that is right their hit song was Release Yourself. It was two brothers, two big Muslim guys!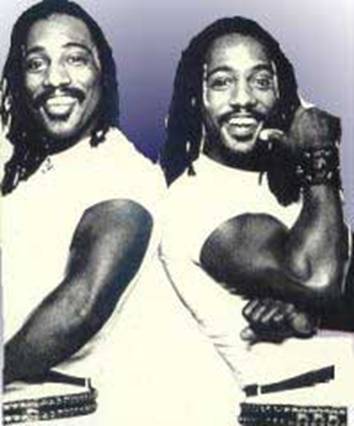 Identical twins Taharqa Aleem and Tunde Ra Aleem and they became like my fathers. I am very tight with them. So what happen was in those early days when cats were getting record deals I got one with them on NIA Records. Then they sold that record to Profile and that was the beginning.
Troy- O.K. and you did a solo record with Aleem but you were still with Andre?
Mr. Hyde- Correct I did a solo record called Young Lady and my name was Lonnie Love! This was before Andre and I ever did a record as Dr. Jekyll and Mr. Hyde!
Troy- So how did Andre feel about it?
Mr. Hyde- I think he was cool with it, I am not too sure you would have to ask him. We have always been friends and brothers so you would have to ask him. I just know that some people came to me and said we want to make a record with you. I said I am in and I was the one that pulled Andre in afterwards and I said we need to make a record together. To be honest I was already writing records, I did one for O.C. called Where were you.
Troy- This O.C. you are referring to is one of Fat Jack's right hand men or tough guy?
Mr. Hyde- Right.
Troy- I read about him, nothing really jumped off for him until he left Fat Jack or after Fat Jack died.
Mr. Hyde- Right. O.C. was also a preacher back in the days in the South, he also was like a father to me. O.C. really recognized my talent more than anybody. Fat Jack would be there but O.C. was the one running Harlem World.
Troy- This is the first time I am hearing this I was always under the impression Fat Jack did more of the running of it then even D.J. Randy.
Mr. Hyde- Well Fat Jack was of course the master mind behind it but O.C. was day to day running s—. But Harlem World became a home to us. They cooked and I remember you fixed up this, you painted that, you moved something over here, whatever but you never got paid. It just became a place for you to go to and it was safe and you were a part of something, it was family.
Troy- So after reading the interview I did with Charlie Rock about Harlem World do you feel he was pretty accurate?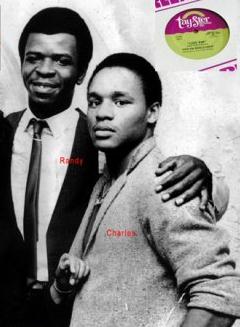 D.J. Randy and Charlie Rock
Mr. Hyde- Absolutely.
Troy- Charlie told me that only a few select people knew about him, Son of Sam and others living on that 3rd floor.
Mr. Hyde- Right.
Troy- He said you and Andre knew as well as Caz and Busy Bee, just the more popular guys in the game at that time. What do you remember back in those days of Harlem World?
Mr. Hyde- I remember people living up there other then Harlem world Crew members, I remember n—— doing drugs up there! That's where Fat Jack had his office at. It was another world. Harlem World was a place where there were two worlds! There was the disco down stairs. And there was the other world were people were living and stuff like that. Fat jack took care of a lot of people. He had a crew, he traveled with a lot of people. He bought a lot of people in, and then there were a lot of people who were like us they became family for Fat Jack. So people did live up there. They had comforters, beds and s— like that. But there were a lot of drugs up there too. A lot of ho's, a lot of everything. but for the most part we weren't in that life and we didn't see a lot of that up there for us. I took a ride with Fat Jack and his people to Detroit and I seen a lot of that street life but I didn't see as much in Harlem World.
Troy- So you took that ride to Detroit was it to promote one of your records?
Mr. Hyde- No just hanging out taking a trip up there and that was when I seen like what they were doing and they really had Detroit locked down.
Troy- In what matter would you say that?
Mr. Hyde- Well they just seemed to be running the city. They had a lot of crew and everything like that…I wasn't privy to all the dealings of all that, but it certainly opened my eyes to the Ho's and the Pimps! I didn't see it moving like that until I got up there. But I realized how big their life was in Detroit because that was where they were from.
Troy- But as far as the living arrangements on the 3rd floor there were times he was housing people that had nothing to do with hip hop down stairs in the living room?
Mr. Hyde- Right, people who worked. But he took care of people. If he liked you he took care of you.
Troy- The point I am trying to make is some people that stayed on that 3rd floor had nothing to do with hip hop, they weren't even going to the parties. They were staying there sleeping and probably going to work the next day and coming back as if it was an apartment.
Mr. Hyde- Or they worked at Harlem World on some level whether they cleaned up, cooked or whatever. They were a part of the Harlem World work family, whatever their capacity was. Listen Troy Harlem World was the greatest time of my teenage life. It really was.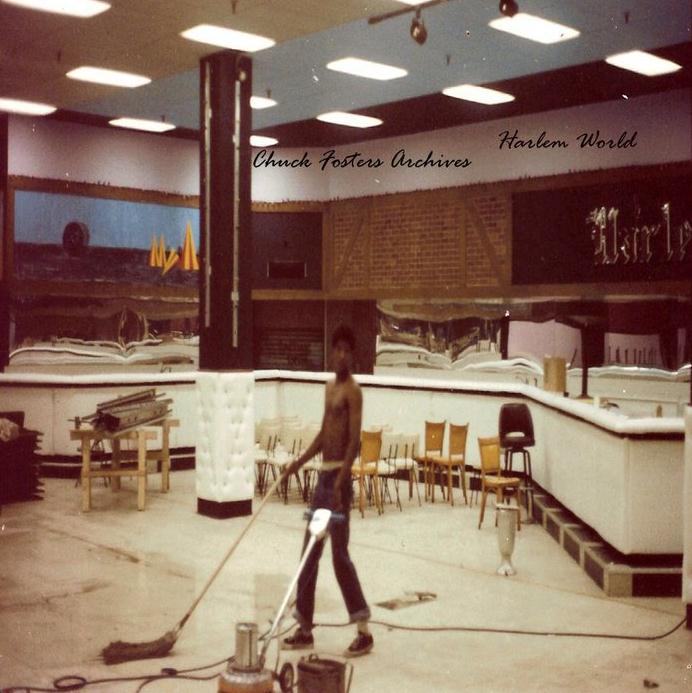 The inside of Harlem World
Troy- So what bought on your first record with The Harlem World Crew?
Mr. Hyde- After hanging out so much we decided to make like a crew (posse.) record.
Troy- Ronnie Green was cool with this?
Mr. Hyde- He was fine. Here's how Andre and I always operated. We operated as independent contractors; you know what I mean like we were bigger than the crews we were in. It was always Jekyll and Hyde and…So we would always move along to whatever suited us, and at the time we naturally grew apart. I mean we were at Harlem World and Harlem World didn't need a D.J.! meaning we didn't need Ronnie because they already had Randy. But please put this in because I love Ronnie Green, after we did that record we wrote Captain Rock. So we were always tight and we still are.
Troy- In fact you guys actually inspired the whole Captain Rock idea and bought it to Ronnie Green.
Mr. Hyde- That's right.  Andre and I were on a plane to St. Louis and we had this idea for a record and we wrote it for him and got him his deal.
Troy- So as you guys are making your bones in the streets of Harlem and other places how did you guys feel about the groups like Cold Crush, Furious, Treacherous etc.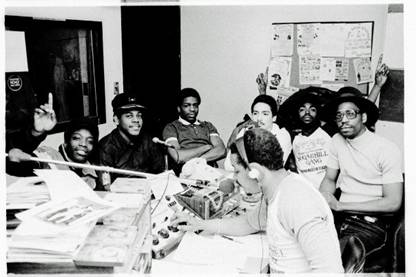 Cold Crush Brothers and Mr. Magic…
Mr. Hyde- They were incredible. First of all as far as Grand Master Flash there is no one musically that means more to me than Grand Master Flash. Nobody, he is a god in my eyes and even more so because of the way he handles himself. He's just cool, he's soave and he's a gentleman. He's always been great to me and his talent is unmatched in my eyes. You have Theodore, you have a lot of people, there's no question about that. But Flash, just the name Grand Master, you know he is such a mythical figure. When we were growing up and we played them and Creole had the echo machine, (Mr. Hyde mimics Kid Kreole's voice when using the echo chamber.) those n—— was out of here! We were looking at them like god damn! They were like the Jackson 5 or something.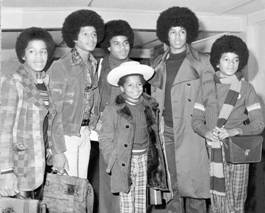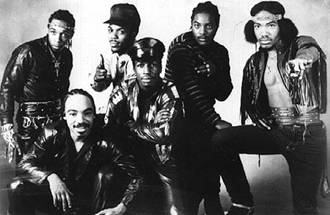 Yo we thought they were the Jackson 5, they were, they were the Jackson 5 of hip hop. Like Cold Crush, all of them. Andre and I ran the streets but we weren't running the streets like they were and their music reflected that. We thought we were hot and I think they thought we were hot too, but we had so much respect for those guys like even the Cold Crush Brothers and all of that, you know they were always really into it. Andre and I just looked at it as what can we get out of it, how does it serve a purpose. Not like this is life and death and this is what I am going to do for the rest of my life, we never looked at it like that and our careers after held testament to that because we always had one foot… especially towards the end of our career…one foot in the game and one foot out. That other foot was solidly planted on the road ahead. We didn't know that hip hop was going to be anything but we certainly knew when this mother f—– was going to end and it is going to end for us but life is going to go on.
Troy- So while you and Andre were thinking so positive about your careers how were you still able to stay so close to Johnny Wa and Rayvon who at that time were attached to the streets and when I say that meaning attached to the life of crime while still doing shows and parties up in Harlem World and other places along the circuit of hip hop during that time.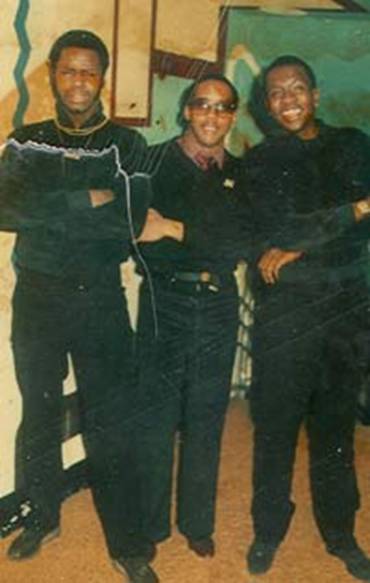 Rayvon- E Man and Johnny Wa
Mr. Hyde- Well we grew up in the same neighborhood.
Troy- Did you know them before the four of you touched the mic?
Mr. Hyde- Good question, I don't know if we knew them before that, but we met them through D.J. Spivey. Like when we were doing Clinton Center they were rapping and doing their thing too so we had friendly competition and I loved Rayvon more than anybody, like he really has always been cool with me. (Mr. Hyde starts laughing.) Like he was so funny. Johnny Wa was smoother and he was about the girls! Rayvon was too, but Rayvon was crazy.
Troy- Give me an idea of crazy.
Mr. Hyde- Like he would do crazy things, like the things he would say, like he had a more care free attitude about things. He was more free spirited and he would fight too.
Troy- I heard.
Mr. Hyde- Yeah and he knew how to fight so he was like a rebel but at the same time he was funny to me, so we would laugh and joke and kid and hangout and everything. Johnny Wa wasn't that, Johnny Wa was smooth, calculating at all times. Johnny Wa went to school with me and we all use to hang out at the Pisces Sweet Shop on Madison avenue. This kid we knew name Pisces family owned this pizza shop and it had pinball machines, candy and all that between 109th and 110th street and Madison Avenue.  As far as their D.J. Spivey he was a real head. A real rap d.j. head, like all he did was eat, sleep drink hip hop. It was just like whoa, but he was good though.
Troy- Yes I heard a lot of good things about Spivey as a D.J. back in those days. What turned you guys on to wearing suites regularly during shows?
Mr. Hyde- Well during the early 80's Andre was working at 1010Wins as an account executive and I was working at the American Stock Exchange.  I took an internship there while going to Lehman College. I would go downtown and I would see these guys in these suites with this and that and they just looked like they had their s— together. They looked professional and they commanded respect and Dre was on the other side doing the same thing. He wore a suit and a bow tie and all of these things in terms of dealing with business. So it was the thing that we saw that made us go, "We want to be there!" Alright living in Harlem back in those days your aspiration was to get a good job you know what I mean!
Troy- Brothers wanted to get money hustling but the real American dream for us was to come uptown with that suit and tie from Wall Street. That was the real American dream for us because it meant legit money and you could dress fresh and the police wasn't chasing you.
Mr. Hyde- Bingo, and I was there! I worked at the American Stock Exchange. I was on the trading floor being a runner not a stock holder or anything like that. But I would work with all of these ballers. So I said I want to dress like the ballers and it became like a normal thing for us. We didn't wear that in Harlem World because we couldn't afford it then but we slowly graduated into that.
Troy- So it is safe to say both of you were getting off of work from downtown kind of late and went into Harlem World with your same suit on…
Mr. Hyde- Basically.
Troy- …and started rocking the party!
Mr. Hyde- Well not in Harlem World we started hanging out in Bentley's, Leviticus, the Silver Shadow etc. and we use to rap there. So we moved into the circle of the after party, six o'clock crowd. So brothers use to go from work to clubs on Thursday and Friday nights. So that was how we got the term the suit and tie rappers. Have you seen the album cover?
Troy- Yes I remember when I was a young teenager and you two were doing your thing. Ya'll stood out very much, in fact I don't even remember seeing your face, I just remember seeing the suits!
Mr. Hyde- And that was part of the reason why we did it. How could you tell us apart from Grand Master Flash and all of these guys and this and that?
Troy- You and Andre's name was very interesting in itself but the suits took you guys over the top. How did the competition feel about you guys dressing like that?
Mr. Hyde- I think they really enjoyed it. I never ever heard anybody say what the f— ya'll doing!
Troy- The reason why I say that because the Fantastic I am pretty sure were the first to perform in the tuxedos, then Cold Crush followed with suits, ties and machine guns, as well as Funky Four plus one more rocked suits also. Was there ever a time people noticed you with those fly suits on or whatever and people were like damn look at these dudes.
Mr. Hyde- Yes and I think it was all in the positive…
Troy- So no hate?
Mr. Hyde- No, never. Not one time was there any hating with the way we dressed. We had at that time 4 or 5 suites and we would change up and have on the shark skin, then I would have on the black as well as the cream or blue. Then you would change up your ties. So we had outfits. See Andre was the one that really seen the potential in marketing Dr. Jekyll and Mr. Hyde as keeping the suits on and everything.
Troy- So is there anything you can remember Andre saying to you pertaining to the suits?
Mr. Hyde- Yeah, I remember we were getting ready to perform at The Tunnel and I came in with this sweat suit on and him and I got into a big argument about that. He was like, "Yo where's your suit? I was like I don't have my suit!" So we got into a big argument about that. He was like "Yo Mr. Hyde you have to wear your suit." That was one of the biggest arguments we ever had actually. But he was right, he was right about that. He said that early.
Troy- So what came across your mind before you seen him? Did you feel, "Man I am tired of these suits and ties, I got this dope warm up suit I'm going to rock this instead!"
Mr. Hyde- Again my thing was it was always about the rap, it was about the music, it was about that. It wasn't about all that other stuff. I was really about getting on stage and being comfortable. I had seen everybody else getting on stage and doing their thing. So I was like the hell with it, this is what I want to do. But to Andre's credit he was the one that really said, "No we need to do this!" And it was really an extension of who we were. Like I said at 21 years of age I was going to my regular 9 to 5 wearing a suit and tie. So it wasn't a stretch for us to do what we did as suit and tie rappers.
Troy- Why did the two of you leave the Harlem World Crew?
Mr. Hyde- Well like I told you earlier with the Aleems I wrote and produced that Lonnie Love record and they sold that record to Profile records. The record did some business and after that I bought Andre in and we did Jekyll and Hyde's Genius of Rap.
Troy- Before we get to Genius of Rap was there a time you were almost about to become a pilot in the Air Force?
Mr. Hyde- No what happen was after Harlem World I was just like forgot this, I am ready to do something with my life because I wasn't going to be in Harlem, like that wasn't going to be my thing, I was going to make something of my life and so I enlisted in the Air Force and I was working at the time. But what happened was Genius of Rap came out! And soon as I heard that I was like forget that I am not going!
Troy- So how was you able to finagle out of that?
Mr. Hyde- I just called them up and said I am not going, my mother has a brain tumor. Thank God it wasn't any draft.
Troy- Also with the Air Force you had to go to college.
Mr. Hyde- Yeah these days it's a lot harder to do. I took the test to get in and they were like you're in.
Troy- I guess they are on a different level then the Army.
Mr. Hyde- Right it wasn't any draft or anything like that. I was very fortunate because I had committed to going.
Troy- Now with that Genius of Rap that was a beautiful jam it sounded better musically than any other Genius of Love attempt.
Mr. Hyde- Yes
Troy- Did a live band do the mix for you guys?
Mr. Hyde- There wasn't any band. Eric Nuree or Matthews who was a disco d.j. or something, don't quote me, because I am not sure, but he was the one who took the record, the actual sample and made Genius of Rap. There wasn't any band.
Troy- So there wasn't any repercussions from that, like someone trying to sue you?
Mr. Hyde- Profile took care of that, they paid the royalties.
Troy- O.K. and I didn't realize that was your first one and I guess because the first one out the box was a hit as Jekyll and Hyde.
Mr. Hyde- Yes it was and we sold a quarter of a million singles in New York alone. We saved the record label because they were about to go under. They were doing Disco records.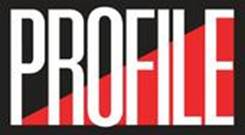 Troy- So being as you saved the company how did they respond to that?
Mr. Hyde- Like cheap dudes that they were. "Mean while let's make another record." I should have said we want $10,000 a piece! But back then you just wanted to make a record; you didn't know anything about any lawyers.
Troy- I understand, you didn't realize what you had until afterwards.
Mr. Hyde- Nope
Troy- Before we get deeper into Profile do you recall any battles with two men crews or any one such as Caz and J.D.L. or L.A. and Moe Dee etc.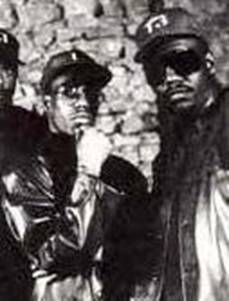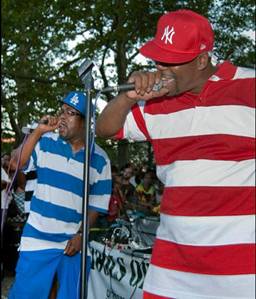 Mr. Hyde- Not really and I am sure there were but we didn't have that type of persona to be battling. We liked everybody, everybody liked us. I remember some Queen's dudes came at us and we ripped them apart at the P.A.L. here in Harlem and then later that night they got beat up and then we had to go out to Queens to perform at a party Chuck D and Shock Lee promoted, damn.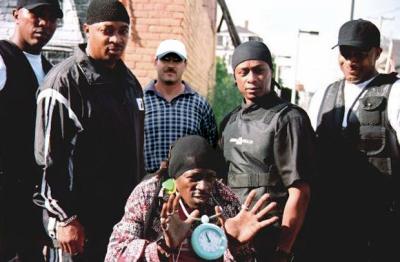 Well those same guys we battled at the P.A.L. showed up but they realized me and Andre really didn't have anything to do with that because me and Andre were just about the girls and I think that was why we never had any beefs because we didn't have knuckle heads with us.
Troy- Well that was my next question, what was your entourage like because all crews had gangs behind them whether they wanted them or not. Flash had The Casanovas, B Fats and Donald Dee had The Sapphire crew, Johnny Wa and Rayvon had The Cigar Mob etc.
Mr. Hyde- We didn't have that; we didn't care about known of that. I hate to say it but we were like good kids in terms of we grew up in the streets but I didn't move like that and Andre and I were happy to be with each other. It wasn't like, "Yo your crew is from your block, so your crew goes where you go." But I didn't take my crew from my block with me, I took my brother, that was it.
Troy- So do you remember the name of the gang or crew from your project?
Mr. Hyde- No, not really but we did have the Young Lords, but they were way older and that was a real gang.