What's up to my brothers and sisters, who hold a common interest in old school hip hop tapes as I. In my quest on a never ending journey for these tapes I've found great happiness when I come a cross some hellified tapes that be rocking like a mother. I also found tapes that sounded terrible as far as quality, some have had a lot of hissing sounds, and some have been recorded many times over. I have tapes that are pieces from other party's, some sound too fast, sometimes theirs gaps, I even had a couple tapes that were made from a radio sitting in front of a speaker.
Then there are those beautiful clear tapes. Thank the lord for them. I remember being a young brother of 11 maybe 12, getting a tape from a friend going home and not coming outside for hours because I was caught up in this tape. I would be in my room playing it over and over, trying to imagine how the place look, were the party was at, and trying to picture what these guys looked like, and just loving the lyrics and the sounds from the M.C. and DJ. Even after knowing the tape by heart, I still listened to it over and over. I would hear some dope sounds like, Kool Moe Dee battling Busy Bee and making history by saying the most unbelievable battle rhymes off the top of his head, ripping Busy Bee apart. Grandmaster Caz having prepared rhymes for hecklers in the crowd were he blatantly disses the hell out of them. The Treacherous Three telling Melle Mel and the Furious Five they can't get down, and asking them openly for a battle.
The infamous Johnny Wa and Rayvon having all the emcee's of that time reciting their rhymes. The Fantastic 5 setting the hip hop world straight on why they are legendary in their battle against the Cold Crush Brothers. Flash going Bananas on the beat box and his Furious 5 emcees stating why they are the father of all hip hop groups. The Funky 4 rising back up to the top after losing Rahiem and adding Lil Rodney Cee and Jazzy Jeff. Donald Dee, Kid Vicious and Afrika Islam solidifying their history in 118 park, in one of those legendary summer nights in the Bronx.
The Force MC's being a breath of fresh air, with their signature F- Troop and Adams family routine's. Busy Bee on short notice and he is not even on the flyer, killing it and showing why he is the crowd rocker in Harlem World. Cool a— Reggie Reg and the rest of the Crash Crew doing it in their silky style. Master Don and his Def Committee emcees showing the hip hop world why they better not sleep on them. Caz and J.D.L. the humorous, sarcastic crowd rockers that turned the Cold Crush Brothers into a Dynasty. Theodore and Flash cutting the hell out of records and so many dope routines and rhymes, by the likes of the Cold Crush brothers, Crash Crew, Fantastic Five, Treacherous Three, Furious Five, Master Don and the Death Committee, Disco 4, L-Brothers, Zulu Nation, Magnificent 7 of Harlem, Funk Machine, Funky Four and others.
To my ears, those were the best crews. Much props to Doug E. Fresh as he made his bones and later became an international star. The Fearless Four killing it freestyle, although they did even more damage when they did album recordings, Spoonie Gee sounds better on his albums, then at live parties free styling, I say that because it is hard to get tapes of him free  styling with out him doing his records. Kurtis Blow got the girls screaming while he is singing daydreaming.
Much props once again, to Pow Wow and Globe and the rest of the Zulu Nation.
Kool Moe Dee was the reason I never liked or gave myself the chance to like LL Cool J, (L.L. I later learned to respect a great deal for his longevity, acting skills and just watching his growth through the years, and I am not going to front, I still nod my head to many of his joints.) because to me Moe Dee was the man, at that time. But today I would have to say that Caz is the man. I probably like them both the same but I have much more tapes of the CC4 then the Treacherous Three. I know Mele Mel is a bad brother, cause on those albums he use to kill it. But to me he never said enough on the tapes and his crew use to piss me off because they never really did a show, you know routines. They would have me open, but they wouldn't give us enough routines in their shows.
I asked Caz one day who was the best between him, Moe Dee and Mel. Of course he said him, and get this, he said that they knew he was the best. Of course Moe didn't agree to this, when he read this. I am sure Mel would not have either. I know that battle would have been the bomb back in the days. I think I would have set it up like this, Dot-a Rock, D.L.B., Rayvon, Tito, Mighty Mike Cee, J.D.L., Busy Bee, Rahiem, Whipper Whip, Master Rob, Gangster Gee, Rodney Cee, Doug E. Fresh, Mr. Freeze, Donald Dee, Kurtis Blow, Kid West, G-Man, Spoonie Gee, Pow Wow, Globe, Kid Creole, Mr. Troy, Cowboy, Johnny Wa, Kid Vicious, Reggie Reg and Barry B-stro would of battled each other, who ever would of won then would of stepped in to the battle of their life against Mel, Moe and Caz. At the end of the battle only one can be left standing of every last M.C. Who would win only GOD knows. I think at that time if advertised properly it could have sold out Yankee stadium.
As far as D.J.s Theodore, Flash, DJ AJ, Charlie Chase, Africa Islam, Breakout, Master Don, O.C., Crazy Eddie, Barry Bee, Whiz Kid, Jazzy J and Bambaataa were the best by far. Then there is the Hot to Cool to Vicious Girl m.c.s, Pebbly Poo, Sha-rock and Lisa Lee. It is hard to debate which one was the best cause they were all very good. I hope you find great joy in these tapes as I did cause this is some of the greatest music in the world.
Family I need some help, I am interested in all tapes of this time but right now I hope you can help me with some special tapes such as: Fantastic five first anniversary, full Crash crew tapes, Notorious2, Funk machine, L-Brothers, Salt and Pepper M.C.s (Dot-a-Rock, Whipper Whip that is), Magnificent 7 from the Bronx and Harlem, Funky 4 with Rahiem, Casanova Fly, the Funky 4 with Rahiem battling the Furious 5, Furious 3, Mighty Force, Sound Masters. The number of tapes I have right now is 182, but the number is always going up because I am always putting in work trying to get new tapes, I may even have tapes sitting in the house waiting to be assessed. So know that it is always more coming. Also if you have any leads for me to reach people that have tapes and the lead turns into something good, you will be blessed back. To my people, I am from the Grant projects in Harlem.
LETS GO BACK FOR A MINUTE- To all those Busy Bee, Kool Moe Dee battle fans, that believe their was more then one battle between the two, you were right! It was two, the first was the legendary battle, which was Christmas Eve, and Moe dee blazed the show. Also from word of mouth it was said that Busy Bee felt he was set up so it was done again, plus Harlem World milked it. But this time the battle was on New Years Eve. Only the Technicians for that night could not get the tape deck to work at the right time, so it was never recorded. Lucky for us the show that second night was no were near as good as the first show they did. (Note: check tape 20 for this show.) But now bust this; imagine if Rayvon would have showed up that first night of the battle. Him and Johnny Wa would of gave Moe Dee and L.A. a run for there money. Don't know what I am talking about, then listen to tape number 76 with Johnny WA and Rayvon they killed it. Never heard of them, they are of the Magnificent 7 of Harlem. You say who are they? The members were Ray and Wa as you know, as well as D.J. Tastic, D.J. Spivey, Shoeshine, D.J. Cookie And E-Man. Yes ladies and gentlemen who always wondered who he was, E-man (Who was named by his man Chu Chu from the Bx.) was mostly just a respected homeboy and m.c. who happened to be kool with them and help put the equipment together, as well as m.c., break dance and tag graffiti. Grand Master Caz told me, him and JDL often battled Ray and Wa, and said they were some talented brothers.
LETS GO BACK FOR A MINUTE-There should be a special award or recognition for the Cold Crush for being the funniest, versatile, health conscious, chiming in brothers in hip hop and just being very original. These are the main reason's why the CC4 were and still are my favorite crew. First with Caz and J.D.L., when the record stopped it was still…SHOWTIME. Know telling what was going to come out of those two mouth's. From CAZ telling a heckler "fuck you and the cab that brought you here" to "when my man Roy Thomas gets out the hospital for the herpes he is going to be walking like he got potato chip in his ass and he don't want to break it." And J.D.L. saying some girl was sewing her draws as well as his trade mark hut routine. Caz was the first to have two different prepared rhymes for hecklers, which had the crowd "saying oh s—". And when he said "there's one person from queens here, and a half a person from Staten island." that was classic. With K.G. (or J.D.L.) he was always on the side being like the filler, today Flava Flav and Freaky Tah (God bless him) are some what similar. You can count on K.G. to gas Caz (as well as J.D.L.) to blaze a heckler in the crowd or he would just be m.c.ing a long with the lead m.c. and he was a funny brother with the courageous cat voice mimic. A.D. was the first to M.C. about dealing with life and society with out drugs and alcohol. Was the first to advertise that it was cool not to use. "Give me Reefer, Blow, pipers and I drink milk". All classics.
LETS GO BACK FOR A MINUTE-Like I said earlier it is real hard for me to tell which female m.c. is the best between Lisa Lee, Pebbley Poo and Sha rock. Sha- Rock is to me, the first lady of Hip Hop. Her elegance, grace and beauty was heard long before you seen her. For an emcee she had a voice like a song bird, but she would also put her rhyme down like Mike Tyson in his prime. I have often heard that she emcee'd better than a lot of the brothers in the game. In a world of stick up kids, and tough guys, she was the Queen of this game.
Peebly Poo is the Ma Barker of hip hop. She has a heart of a lion when it comes to saying her rhymes, and the coolness and style of a Pam Grier. If you listen to Pebbles on tape32 she is on fire the sound of her voice is like something from Motown back in the days.
Then there is Lisa Lee on tape77. I have found a new respect for Mrs. Lee, she killed it. Man she sounded like she was the leader of the crew on that one. Lisa Lee is another courageous pioneer of the hip hop game. Also the first woman, to be featured in a hip hop movie.
LETS GO BACK FOR A MINUTE- lets talk about Grand Master Flowers. It is said that their is a time when Mr. Flowers was such a bad meaning good, D.J.ing brother that he had once opened up for James Brown at Yankees Stadium.
The history of Mr. Flowers is he use to go up to the Bronx from Brooklyn to hear Kool Herc play. They were some what similar in the fact that they had very strong, powerful systems and they built there own speakers. Now Flowers on his visits to the Bx. to check the other D.J.s, notice Flash and his greatness. He quickly named Flash, Grand Master. That's right Flowers named Flash, Grand Master. Flowers felt That Flash took D.J.ing to a whole new level. In 1974 Flowers popularity grew so much that he played at the most popular clubs N.Y.C. he was even mentioned in the commercials that WBLS did for Studio 54. By 1975 Mr. Flowers formed his crew which was called " THE GMF CREW" which consist of D.J. Blue, Aron and Barren. From 76 to 79 he was very strong and popular. But by 1980, ended up succumbing to drugs. In 1992 he died because of drugs. Peace and blessings to you and your family, Grand Master Flowers. Check his sound and style at tapes 97 and 98.
LETS GO BACK FOR A MINUTE- In an interview with J.D.L. I asked him "What were your thoughts on the Force M.C.s, did yall have beef before and after this so called battle, cause I asked Caz was it a battle he said "no". He said when Crush were leaving they were just coming in. When you listen close I never hear the Cold Crush 4 mention them". Also how was the relationship afterwards? J.D.L.s response was "The Force M.C.s were real good, they had tight, good, cute, novelty routines (like a nice breath of fresh air). Their D.J. was on point, and they wanted to be the top m.c. crew (secretly) and so the crowds gave them love, other m.c. crews gave them props, we did too! However like I explained to you before that, all those groups wanted to get at us except the alliance (Treach 3, Fearless 4, Dougie Fresh). Why? Because every single M.C. contest we got in we won and all them groups that were in them couldn't do nothing about it! And I mean we never dissed no group that didn't draw blood first, always humble and confident, polite and never no snake moves! So back then a lot of promoters use to hook up fake battles to draw the crowd and make a lot of money, the groups that would of supposedly battled were told in advance it was rigged just come do your regular show get paid, all is good. We had no beef with the Force M.C.s at the time so I don't know what was on there mind. We did mad shows with them, even in the Shaolin (S.I., their turf) and got along alright. Any way we had 3 shows that night and wanted to knock out that show first cause it was in Jersey, so we got there, got on and bounced, did a regular show kept it moving, we didn't even get dressed. So the next day we were at Caz house practicing and this kid that was a roadie let us listen to the tape and we was like "this don't make no sense" so we called our manager and asked him when was the next time we were playing with the Force M.C.s and it just so happen that next week we were playing with them at printing H.S. so we rolled up in there strong like the untouchables on some gangbusters. Went dead up in their dressing room, surrounded them and asked them why they did that foul move. They broke down and gave some lame excuse. So we took what they was getting paid that night (with out guns) and told them that at the next Harlem world party they are to apologize to us in front of capacity crowd and let the crowd no what they did. I don't know if there's a tape of that night but the next M.C. contest after that we stood in front of the stage when the Force got on, wished them luck and A.D. threw a rabbit's foot in Mercury's (R.I.P.) face and when we got on last at that particular M.C. contest we broke out with two new dance steps. Two smoking new routines and before we got off we showed them the money the contest was paying cause the promoter knew we was going to win and paid us right before we got on stage. Then Caz threw $100.00 in singles in the crowd, which caused pandemonium and we left! And our relationship with them after that was "you bring it to us again we will end your career"!
LETS GO BACK FOR A MINUTE- I am going to speak about the Fantastic 5 for a moment. Right after I heard the Fantastic 5 battle with the Cold Crush, I felt that they were very good and in my honest opinion they won the battle, over all the Cold Crush 4 is a better, a much better crew and I only say that because I am a fan. But on this night Fantastic won and the reason is they had a totally new show of routines. When Kevie Kev asked Dotta Rock if he was ready to win the G and Dot said the gusto is going home with me. You knew something was about to happen. Cause first the lyrics of the intro was slamming but you hear chicks screaming and people yelling, then they have mic problems, but go back in to there routine saying "like a four leaf clover when the party's over the Cold Crush will be starving Marvin". The routine and rhymes were real tight. Head hunters was like one of my favorite records so when that came on they just killed it. Then Theodore came on later and killed it with hand cuffs and Kevie Kev said "We handled the 4, and Theodore handled them all". I found this to be a very interesting moment in hip hop so I had to get some real good inside information, so I had to see my man the rhymethologist J.D.L. My question to him was "What tipped off the BATTLE and what was the buzz (feeling) in the Bx. in the days leading up to the battle"? Well Busy Bee amped that up. We all were in the ecstasy garage us, them, and Busy waiting to get paid after the show taking flicks. Busy is under the influence talking garbage. I don't know maybe Busy knew we kind of had an edge on Fantastic. Any way Busy said to us "yeah Cold Crush rocked it tonight but I Know who yall can't mess with". So we said who? He said my man Theodore and his fantastic 5 emcee's. So things got mad quiet. Couple spectators going "ooh, ooh" So Caz said the hell with that can't nobody mess with us. So we started beefing right then and there. Mean Gene was like "yall want me to cut the music back on". We were like what ever. So we bounced but it was bound to have happened anyway. So for a couple weeks we would go to their shows post up in their spot, be right up front when they get on intimidating them. Then they would come to ours and do the same thing. Then they would come to Caz crib while we were practicing and we come out side beefin with them. A promoter name Ray chandler found out about this and capitalized on it. That battle changed our lives even though we got robbed that night and got hanker chiefs thrown in our faces by them. That battle took us to a level of showmanship that after that show WE NEVER LOSS NOTHING AGAIN!!!!! I mean our professionalism had rocketed. Every m.c. contest they gave we won (about 10 of them) we got crazy awards for our stage shows. Best m.c. group and everything. Fantastic on the other hand went down and we made them feel it every time we played with them we tore them out the frame dissing them on rhymes and all.
Peace and blessings to you and your family……….One Troylsmith21@hotmail.com
NEWCLEUS (feat. COSMO D & LADY E)
OCT 15TH 2005, GLOUCESTER UK
Photos by Simmo
Where do I begin? Seeing NEWCLEUS live in the UK was like being smacked in the head with the contents of my childhood walkman. It was an unforgettable experience a) because the JAM ON CREW exceeded all expectations and were amazing and b) I thought it would never happen.
I mean, come on, this is NEWCLEUS, right? "diggy diggy danga dang diggy diggy". Don't get it twisted, I'm not saying that I thought Newcleus were washed up has-beens. I just thought the likelihood of seeing a UK gig by this group at this late stage in my life was an impossibility. Thanks to Speedy & Skelly and their sponsors, a childhood memory came straight back, live and direct.
Thoroughly professional throughout and definitely old hands at marshaling rowdy crowds, Cosmo D & Lady E put out some incredible sounds. The set was split into three distinct parts.  The first was Newcleus' more personal soulful works, followed up by three contemporary and upcoming cuts and wisely rounding off with the classics.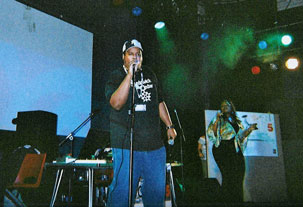 The highlight of the night for everybody was JAM ON IT (the last song!). Everybody, I mean everyone was singing it.  Sounded so good live. With Cosmo D doing Chilly B's verses too….
My fave of the night was I'M NOT A ROBOT, an underrated cut from the first LP, which had never been performed live before then. Also I thoroughly appreciated the rendition of WHY? which COSMO was wondering whether or not include.
It's a shame that his house record with Lady E  got no love. I felt the groove. But people were clearly there for the electro-funk and sadly the cut crashed and burned – unfair but c'est la vie.
SUMMER OF 79 was damn good. reminded me of SUMMER TIME by JAZZY JEFF… same type of good vibe reminiscing party track that was.
Unfortunately, the opening track AUTOMAN suffered from engineering and sound check tweaks, that made the joint too noisy and chaotic. It got sorted for IM A ROBOT .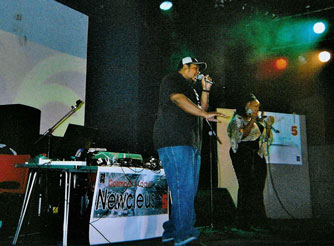 Overall, I was surprised at how tight and how good live it was. We were all wondering how it could happen with such a depleted line up. The original Newcleus had at least four people, right? But damn, they pulled it off.
I'd recommend that anyone stateside reach a NEWCLEUS show without delay because they still have it. It was a real treat and antidote to just see old school DJs doing their routines…. NEWCLEUS take you right back to where your heard it first…..
COSMO D & LADY E are cool peoples too. Happy to chill and sign records and cds and have their pictures taken. No heirs and graces here.
A true pleasure. And one of the few groups I'd venture out to see again.
Set List
AUTO MAN
I'M NOT A ROBOT
WHY?
DESTINATION EARTH (VOCAL)
MY LOVE TURNS TO LIQUID (House Track)
SUMMER OF 79
WE DON'T DO FUNK ANYMORE
JAM ON REVENGE (WIKKI WIKKI)
SPACE IS THE PLACE
COMPUTER AGE (PUSH THE BUTTON)
JAM ON IT
Submitted by Greg Wilson
They say that lightening doesn't strike twice, but where there's a rule there's always the exception. Case-in-point concerns that maverick maestro of musical mayhem, Mr Malcolm McLaren, the man who masterminded the explosion of the Punk Rock scene and brought anarchy to the UK in the form of the notorious Sex Pistols (who he managed and mentored). As a result, McLaren's place in British music history is ensured, and countless words have been written (and will continue to be written) on the subject.
Yet, strangely, little is ever mentioned about McLaren's later role, which was also hugely significant, for it was he who was ultimately responsible for bringing Hip Hop out of New York's South Bronx and placing it squarely into the collective psyche of the British youth. The portal for this unlikely introduction to what would become the most influential cultural movement of the late 20th Century was a highly infectious and truly inspirational single called 'Buffalo Gals', which entered the UK Pop chart in December 1982 (exactly 6 years on from the Sex Pistol's chart debut), climbing all the way into the top 10.
This was more than six months before Herbie Hancock's Grammy winning 'Rockit' was issued, giving the UK a head start when it came to our Hip Hop education, for it wasn't until 'Rockit' came along that the majority of people (even in most of the US) began to latch onto this vibrant and colourful New York subculture. Herbie Hancock, via Grandmixer D.ST, might have scratched the surface when introducing Hip Hop to a global audience, but 'Buffalo Gals' had already brought the total package (inclusive of all four elements, not just scratching) to the British mainstream.
As often happens at these pivotal points in popular culture, it all came about by complete accident. McLaren, in New York looking for a support act for his current charges, Bow Wow Wow, was taken to see 'something that couldn't possibly have ever existed in England'. This 'something' turned out to be an open-air party, where he was exposed to the full-force of the Hip Hop movement in the presence of none-other-than Afrika Bambaataa, the figurehead of the Bronx 'Zulu Nation' (who laid the blueprint for the Electro genre via his hugely influential Kraftwerk-inspired monster cut, 'Planet Rock').
In the illuminating 1984 BBC documentary 'Beat This! – A Hip Hop History', McLaren (thankfully) gave a rare TV interview on his Hip Hop initiation, recounting his impressions of this first awe-inspiring encounter with what must have seemed like another world (especially when you consider he'd have been one of the few white people and possibly the only Englishman in attendance). Watching the DJ's at work on the turntables he observed: "it was extraordinary cos the sound coming out was totally inarticulate, it was a load of rough noises, noises that sounded a little like guitar, but had a sort of concrete chisel sound and the sound I realised was actually coming from the way they were messing around with their hands on the decks, moving records backwards and forwards". But that wasn't all: "at one point or another people would move to the sides and a group of kids would start freaking out in the middle of doing all this incredible gymnastic dancing!"
McLaren, profoundly affected by what he'd seen and heard that night in the Bronx, incorporated the Hip Hop style into his debut album project, 'Duck Rock'. With top British producer Trevor Horn at the controls, the LP broke new ground, taking the recording studio on the road and around the world, absorbing many different musical styles and putting them together in a totally unique way (a number of years before Paul Simon was universally acclaimed for doing a similar thing).
The 'Buffalo Gals' track itself has a fascinating legacy. It was based on a famous minstrel song of the same name, which was first published in 1844 by the ironically-named Cool White (although the song is older still and it's writer unknown). A hundred and two years later, it found its way into the storyline of the classic Frank Capra movie 'It's A Wonderful Life' (which, remarkably, was a box office flop that only gained full recognition in the 1970′s, following annual Christmas TV repeats). 'It's A Wonderful Life' is nowadays, of course, regarded as a masterpiece, one of the most beloved of all American films.
If its origins weren't bizarre enough, to twist things even further, McLaren's 'Buffalo Gals' saw him hark back to an earlier type of MC, taking the role of a square dance prompter (or figure caller), instructing the buffalo gals (and boys) to 'go around the outside' and 'do-si-do your partners'! The sleevenotes on the album describe the track as follows: "recorded with the World's Famous Supreme Team and Zulu singers backing them up with the words 'she's looking like a hobo'. The performance by the Supreme Team may require some explaining but suffice to say they are dj's from New York City who have developed a technique using record players like instruments, replacing the power chord of the guitar by the needle of a gramophone, moving it manually backwards and forwards across the surface of a record. We call it scratching". The sleeve for the album would be a customised 'boom box' (complete with buffalo horns!), whilst many people saw their first pair of the soon to be essential Technics SL1200 turntables on the front cover of the single.
Before 'Buffalo Gals' we were more or less completely unaware of Hip Hop (at least with regards to three of its four elements). We already knew about Rap of course, which had first made its mark in 1979 when The Sugarhill Gang scored a worldwide success with 'Rappers Delight', but the style had been dismissed by the British media as a novelty (although perceptions had begun to change following the August '82 release of Grandmaster Flash & The Furious Five's seminal street epic 'The Message', another UK Top 10 hit). Scratching was still an abstract concept as far as British DJ's were concerned (Flash & The Five's 'Wheels Of Steel' made little impression on its UK release in '81, it's genius only fully appreciated when it was revived later, during the Electro-Funk era), graffiti, as we then understood it, was hardly considered art, and we knew nothing whatsoever of breakdancing, although Shalamar's Jeffrey Daniel, an ex-dancer on US music show 'Soul Train', had already introduced us to the LA-originated style of body popping via the bands appearances on British TV.
Despite our ignorance of events in the Bronx, we weren't totally green. In the more adventurous specialist black music clubs a new type of sound, which became known as Electro-Funk, was being played on import (mainly arriving on New York labels like Tommy Boy, Streetwise, Sugarhill, West End, Prelude, Sunnyview, Emergency and Becket). During 1982 the landmark early Electro-Funk tunes (which pre-dated 'The Message') were the mighty Peech Boys, led by the legendary DJ Larry Levan, with 'Don't Make Me Wait', as weighty a slice of Dub/Funk as we'd ever heard, and, of course, 'Planet Rock', by Bambaataa and his Soul Sonic Force, which would cause major controversy within black music circles due to its no-holds-barred technological assault.
As more and more of these innovative 'electronic' releases began to make their way across the Atlantic, the Electro-Funk scene (which attracted a predominantly black audience) took root at two clubs in the North-West of England where I then deejayed, Wigan Pier and Legend in Manchester. Ignoring the mounting flak I was taking for playing what my critics regarded as 'soulless' records, I became increasingly associated with this music, not only as a result of featuring it in the clubs (which drew people from all over the North and the Midlands, and even as far as London), but also because I'd incorporated it into my regular mixes for Mike Shaft's show on Manchester's Piccadilly Radio (which was known for a more orthodox selection of Soul, Funk and Jazz).
'Buffalo Gals' was despised by the purists, the very idea of playing a record by Malcolm McLaren on a black music night was absolutely abhorrent to them, but it fitted perfectly into my playlist as the backing track was pure Electro-Funk, giving the whole crazy concept a solid foundation that would truly rock the dancefloor. Following on from 'Duck Rock', Trevor Horn would continue the Electro experiment, via his own ZTT label, as a member of The Art Of Noise, most notably on the influential singles 'Beat Box' and 'Close (To The Edit)', whilst cleaning up in '84 with his groundbreaking work with Frankie Goes To Hollywood. Horn set new standards in Pop music production, his studio wizardry a major inspiration for the next generation of music makers.
However, it wasn't until the promotional video for 'Buffalo Gals' was unleashed onto a totally unsuspecting British public that the full impact of this truly revolutionary release hit home. It would be no exaggeration to say that from this moment onwards British youth culture was never the same again. The contents of this video quite literally changed people's lives!
It wasn't an overnight change, how could it be when the full implications of what had appeared, as if by magic before our eyes, would take months to fully sink in, but change gradually came. The video opened up the Pandoras box of Bronx street science; it was a full-frontal introduction to what we would later learn was Hip Hop. It was all there, rapping and scratching, colourful graffiti 'pieces' and, of course, the most amazing of dance styles (courtesy of the soon to be internationally famous Rock Steady Crew), which we'd come to know as breaking (although the original term was b-boyin'). This included the execution of a move that none of us could have imagined was possible at the time, somebody spinning around upside down on the top of their head! Had we been watching a news report with footage of the Martians landing, we'd have been no more awestruck than the moment we saw that first headspin!
To quote my own sleevenotes from 1994′s 'Classic Electro Mastercuts' compilation: "Etched in my memory is a night in Huddersfield when I first played the video, the audience was quite literally stunned and everyone sat down on the dancefloor to watch! I must have played it continually for over an hour. Seeing the dazed expressions on people's faces, I realised the meaning of the term culture shock!" The very idea of, in effect, stopping the night to play a video over and over, until the club closed, gives you some level of its impact. I, of course, hadn't planned to do this, but once I'd played it the first time they wanted it again and again and again, and it would have been pointless to try to get back into the swing of a normal night, such was its mesmeric power. Once, during a radio interview about the Electro-Funk days, while searching for a phrase to sum up just how utterly mindblowing this video had been on first viewing, I somehow stumbled across a word that described it perfectly, something I can't remember using either before or since – the word was 'unfathomable'.
The effect of all this on young blacks (like those in The Stars Bar in Huddersfield on that fateful Thursday night) cut particularly deep. It hadn't been long since the inner-city riots, which resulted from the black community becoming increasingly isolated and marginalised within British society, and now, having made a stand against the system, young blacks were asserting their identity in a way that had never been possible for the older generation (most of whom had immigrated from the West Indies in the 50′s and 60′s). This Hip Hop spoke directly to the youth, and needless to say, once they'd seen what it entailed, it was love at first sight. Society might have closed the doors, but Hip Hop burst them wide open again and it would be difficult to calculate just how many black kids in this country became breakdancers, body poppers, DJ's, rappers or graffiti artists as a direct result of watching that video.
By the summer of '83 breakdancing exploded onto the streets of the UK. After painstakingly practicing their moves (ideally on the kitchen lino) during the intervening months, the British b-boys finally emerged, ghetto-blasters at the ready, giving impromptu performances to bemused shoppers. This first wave of breakers were mainly black and their all-action entertainment worked wonders for race relations! Their white contemporaries, who may previously have felt threatened by what appeared to be a gang (rather than a crew) of black lads, no longer thought about fighting, but wanted to find out more about the dancing and the distinctive music that was booming out of the speakers. For many people, this was their first conversation with someone of a different skin colour, and major barriers began to break down during those initial exchanges in the streets and shopping centres. Apart from anything else, Hip Hop (or Electro-Funk, as we still called it) was a unifying force as far as the youth of this country were concerned, with black and white kids now communicating to the rhythm of the perfect beat. Nowadays Hip Hop culture is so much a part of British youth culture that we barely notice anymore, but back then this was a remarkable development. We were right on the cusp of social change.
By the end of 1983 Morgan Khan's era defining 'Street Sounds Electro' compilations had hooked in the mainstream audience and now white kids in the suburbs, many of whom had never even come into contact with black people, were tuning into the b-boy vibe. The 'Electro' series provided the soundtrack for this new British breakdance generation and the UK dance scene would never look back as the seeds were well and truly sown for the clubbing boom that followed later in the decade.
As with Punk, Malcolm McLaren could clearly understand Hip Hop's role as a force for social change, for when all's said and done, these two major youth movements represent opposite sides of the same coin. Both Punk and Hip Hop made a lasting impact on popular culture in the UK and McLaren's role was absolutely crucial in each case. To view him only in context with the Punk years is to miss the full scale of his role in music history (not to mention the related areas of dance, art and fashion).
It's difficult to bring to mind another 80′s release that had a greater impact, or longer-lasting effect, on the youth of this country than 'Buffalo Gals', and as such, McLaren can lay claim to another title to place alongside his Punk Rock plaudits, that of British ambassador for the Boogie Down Bronx. It's about time that this fact was finally (and fully) recognised; the tributes are long overdue, for this was undoubtedly a monumental contribution to British popular culture and black British culture in particular.
Copyright – Greg Wilson 2003
E-mail: electrofunkroots@yahoo.co.uk
Everybody knows this song. Thanks to the revitalization of disco in the late 1990′s and several remakes (include one by a grandmother), the words "Now what you hear is not a test, I'm rappin' to the beat/ And me, the groove, and my friends are gonna try and move your feet/" are recognizable. But how did this happen? Who were these guys? That's this month's topic.
First of all, "Rapper's Delight" was not the first rap record. Earlier in 1979, a funk group called The Fatback Band, or simply Fatback, released a single on Spring Records called "You're My Candy Sweet." That song held little significance, but the B side entitled "King Tim III (Personality Jock)", was picked up by radio stations and surprised everyone.
Returning to "Rapper's Delight", the group that recorded it, The Sugarhill Gang\, was not exactly a well known crew before the song. In fact, they weren't a crew at all. Sylvia Robinson, co-founder of newly created Sugar Hill records, heard this new sound from her kids and decided she could take advantage of it.
Wonder Mike was a buddy of Sylvia's oldest son. Master G heard through the grapevine that Sylvia was making a record and arranged an audition for himself. Both of these guys were in previous groups. The final piece of the group, Big Bank Hank, is the real mystery. Hank picked up rapping as a bouncer at an NY club. Sylvia heard him rhyming in the kitchen and signed him up. While that may be an unusual break, the rhymes he was using were the real problem- they weren't his. They belonged to Grandmaster Caz of The Cold Crush Brothers. Hank helped manage Cold Crush and asked Caz if he could use his rhymes on the record. Caz agreed under the assumption that Hank would help him if anything good happened. Hank even went so far as to spell out Caz's original name, Casanova Fly, in the verse, proving that he didn't write it.
The song used the backing of Chic's popular disco track "Good Times" a deejay favorite when it was released in 1979. Originally the song's composer Nile Rodgers was not credited on "Rapper's Delight" but that was later changed.
Once the record was finished Joe Robinson, partner/wife of Sylvia, was quoted as saying she brought him a 15 minute record and he had no clue how to get it played on the radio. Once he heard the song, however, he knew it would only take one play on any station and that would be enough to start the momentum. One of the big breaks came in St. Louis, MO when station WESL played it once and jammed the phone lines for the next 12 hours. Chuck D of Public Enemy said, "It wasn't how long the 15 minutes were, but how short the 15 minutes were."
Once the song started playing heavily on the radio, other New York MC's and DJ's were stunned and amazed. And not so much because rap was on the radio, but because of who the group was that was being played. Grandmaster Flash recalled thinking, "The Sugarhill who". It was inevitable that a rap record would hit, but most people thought it would be The Cold Crush Brothers, The Fantastic 5, Grandmaster Flash, or Kurtis Blow (who was in the studio at the same time recording "Christmas Rappin').
The song sold over two million copies (the biggest 12″ single ever) and hit #4 on the R&B Chart. At one point, the record was selling over 50000 copies a day.
The Sugarhill Gang was never able to recapture the same success although they did have other hits included "8th Wonder" and "Apache".
They have been able to continue to tour even today on the success of "Rapper's Delight".