Beat Street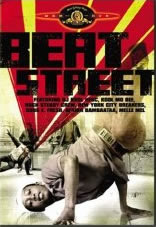 Click to Buy it From Amazon.Com
DIRECTOR: Stan Lathan
PRODUCER: Harry Belafonte
WRITER: Andrew Davis
COMPANY: Mgm/Ua Studios
YEAR: 1984
Synopsis
Follows young up and coming deejay in the Bronx, his break dancing younger brother and their friends as they try to move to the top of the hip hop class.  Also includes graffiti artist and wife through their troubles leading up to the artists death.  Several performances from rappers, deejays, breakers, and graf artists.
PERFORMANCES IN FILM:
Along with several deejay bits by film's star DJ Double K, there are many other old school performers.
Us Girls performs in the house party at the beginning of the film.  "US Girls, can boogie two…"
The Roxy segment features Afrika Bambaataa and the Soul Sonic Force + Shango.  Here's a switch from the usual call and responses of the time.  Bam has the crowd chant "Emancipation Proclamation."   Jazzy Jay is on the turntables.  Check out the crates of records around his set up.
The Roxy segment also features a battle between The Rock Steady Crew (aka Bronx Rockers) and The New York City Breakers (aka Beat Street Breakers).
While not performing, Kool Herc plays himself as the owner of the Burning Spear.
At the Spear, perhaps on the best performances of the film occurs when The Treacherous Three are joined by Doug E. Fresh and The Magnificent Force to perform "Xmas Rap."
Although they are relatively unknown, at the Roxy tryout session, I always loved Richard Sisco and Wanda Dee's performance.
The Roxy Finale features Melle Mel and The Furious Five (at that time made up of Scorpio, Cowboy, King Louie, Kama Kaze Kid, and Tommy Gunn).
---
Reviews/Comments
When this first came out, I loved it mostly because of all the breakdance segments, but as I grew up I ended up appreciating the mc/dj performances more.  I could watch the "Xmas Rap" with T3 and Doug Fresh over and over. – JG
This is a classic hip hop joint all the elements are there, graff, DJing, MCing, B-Boys and Girls…Loved it then loe it now. I use it to school my children how these new artist got there moves (from the Streets)… DJ Spaz Richmond, Va.
Submitted by DJ Spaz
Check out a clip from Beat Street