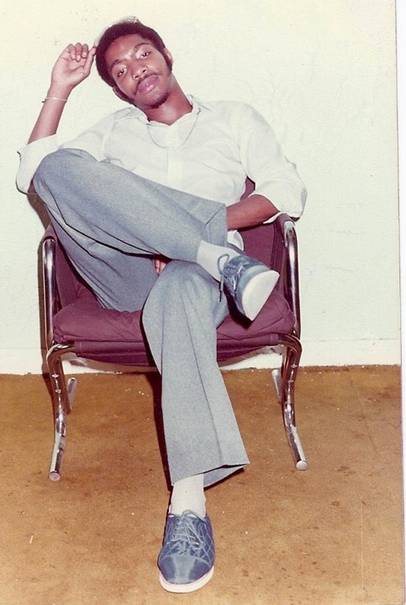 Winter of 2011
FORWARD: If, in fact, the Bronx is considered to be the birthplace of hip hop, then certainly Manhattan would be the place where this art form came of age before being thrust out into the big bad (corporate) world.  There can be no better parallel of this transition from inner city to industry than that of one Alonzo Brown a/k/a Lonnie Love a/k/a Mr. Hyde.  As one half of the infamous duo known as Dr. Jekyll and Mr. Hyde, Brown graduated from essentially playing records at the local skating rink to becoming a regular personality at the legendary Harlem World night club and on to a successful recording career before making his mark in the often cutthroat music and movie industry.
The tendency in the world of hip hop is to only accept something as being "legit" if it comes from the streets and stays true to the streets.  And, being from the Bronx, I always clung to the notion that the Harlem club scene tended to be a more "sophisticated" type of clientele.  While most of us self-proclaimed b-boys were shopping at apparel hot spots like Simpson Street in the Bronx, AJ Lester's in Manhattan or Delancey St. in lower Manhattan, Jekyll and Hyde were more likely spending time in Barney's on Madison Avenue or Brooks Brothers.  So naturally when I saw Jekyll and Hyde perform in the early 80's dressed in suits at a b-boy party, I questioned whether they could give this hip hop crowd a reason not to run them out of the place.  That didn't happen on this night.  While the less juvenile influences of downtown clubs like the "Renny" and later Bentley's were clearly evident in their delivery, that didn't diminish the "street cred" of songs like "Genius of Rap" and "A.M/P.M."  Energy is infectious and these brothers could bring it!  This fact was certainly not lost on this fat laced, gold chain and kangol wearing audience.  With one foot firmly planted in the streets and the other geared toward the "grown and sexy," Jekyll and Hyde had an answer for whatever flavor we craved.
With rap becoming a legitimate force in entertainment worldwide, the logical next step for both members was clearly behind the scenes, albeit no longer as a team.  The position of A&R (artist and repertoire) at A&M records was indeed that step, which allowed Hyde to help in guiding up and coming acts to success.  Business and organizational skills complimented his knowledge of the needs of the performing artists.
But, clearly the creative bug is ever-present in Hyde.  His involvement in the police drama New York Undercover and writing the script of the Jessica Alba movie "Honey" serve as a nod to his creative muses.  Rarely have we seen such a balance between the business and creative sides of the hip hop entertainment industry.  But this seems to be Hyde's modus operandi, showing us that he is as proficient behind the scenes as he is comfortable at center stage.
In this, the 21st century, the streets are big business and the infamous rapper-turned-exec known to us old school heads as Mr. Hyde has been a staple in every aspect of its being as well as acting as a symbol of where it comes from and certainly where it has gone.
<Peace and Awareness,
AND one
Troy- Alright my brother thank you for your time today. I like to get right to the beginning of time. Where were you born and raised?
Mr. Hyde- I was born in Harlem Hospital in 1961. We were living in Delano Village in Harlem and then moved to Spanish Harlem about six years later to Dewitt Clinton projects right on 110th street. I went to P.S. 86 which was right on 109th street between 2nd and 3rd avenue, Luis Munoz Rivera School. As far as Junior High school I went to I.S. 29 and they use to call it The Castle, it was 93rd street and Park Avenue. Their use to be a candy store there and we literally took them out of business because we use to go up in there and steal the candy on the regular. They had the penny candy and the guy that ran the store would leave the jars up on the counter and that was a no no.
Troy- So what high school did you go to.
Mr. Hyde- I went to Charles Evans Hughes first and that is where I met Andre Harrell. (Dr. Jekyll.) Hughes was down on 19th street and 8th avenue.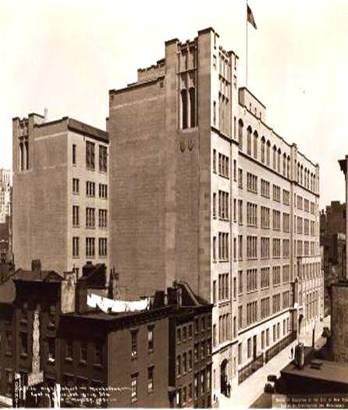 I went there because my brother went there. I originally wanted to go to Norman Thomas and I had good grades.
Troy- Norman Thomas would have been beautiful for you with all those girls in there. It was like eight girls to one guy.
Mr. Hyde- Yeah Norman Thomas had all the fine girls there but I wanted to go where my brother went.
Troy- How many years does your brother have on you and how many brothers and sisters do you have?
Mr. Hyde- Well my brother is 2 years older than me and it's just me and him. His name is James Brown and he was our D.J. His D.J. name was D.J. Diamond Touch. I wanted to go to Hughes I guess because of the transition from Jr. High to high school. Love Bug Star Ski went to Hughes too and it seemed like half of Harlem went there. Either they went there or they went to King high school. But Hughes had a lot of people from way uptown and I always found it strange why they would go all the way downtown to go to school because for me I had to take the 6 train to the 4 train, take the 4 train to 14th street and then catch the double L (Today just known as the L train.) train to the last stop which was the 8th avenue stop on 14th street and then walk 3 blocks to my school. It was a long way for me to go to school every day.
Troy- Was it co-ed?
Mr. Hyde- Yes, definitely. Now Barry Michael Cooper went there with us also, he is a year younger than me. I didn't really know Barry at the time.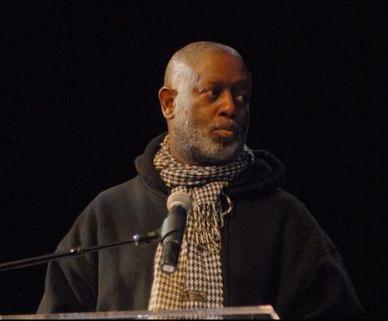 The great thing about Charles Evans Hughes is even before we started rapping all the players were there. Cats use to take O.J.'s down there and you would be standing in front of the joint and see like a deuce and a quarters pull up or 98's. Ronnie Green use to know this dude who was a driver name Star Ski. His name was 63 Star Ski that was his number. So I use to walk over to King Towers every once and awhile and we use to take the car down to Hughes. Ronnie didn't go there but some of his crew did. So we use to take an O.J. down to Charles Evans Hughes and that was a big deal. (Hyde chuckles.)
Troy- That is correct, those cars were fresh back then.
Hyde- That's right the black with red doors on the side with the red plush valor seats inside.
Troy- My man Rick that use to run numbers from around the way had a white 98 with white interior.
Hyde- 98's were fly.
Troy- Sometimes I wonder if you could rock a 98 today.
Hyde- Yeah if you could find one.
Troy- So you said Love Bug Star Ski was in there with you also.
Hyde- Yeah Love Bug was the king! At the time he was really doing the Renny and that was the place to be at the time. That place also inspired us.
Troy- So when did you first start hearing hip hop?
Hyde- Well what happen was I use to hang out with these kids that ice skated with me and my brother at this ice-skating rink on 110th street and Central Park. I also D.J.ed there. It was the Lasker Ice skating rink.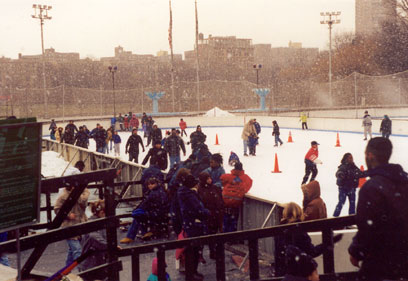 110th street Central Park North, Harlem.
I met these dudes name Kevin and Wendell and they lived on 140th street and Lenox Avenue. So we use to go uptown on Saturday nights and hangout with them drinking brew, smoking weed and had a hook up to get in the Renny (The Renaissance Ball Room.). So we get in the Renny and that was the first time I ever been in anything that big. When I walked in I couldn't believe my eyes, dudes had on gold chains girls had on Jordache and  Sergio Valente  jeans.


Dudes were drinking splits of champagne and this guy walks on to the stage and says, "Throw your hands up in the air, everybody say oh yeah!" And like 200 people said, "Oh yeah." (Troy laughs.) I was like what the f— is this!
Troy- You caught the bug immediately?
Hyde- Let me tell you something Troy my hand to God I looked at him like…everything else stopped in my life. I said to myself, "I'm going to do that." I didn't know what was going on but I said that is what I want to do. He had so much power over the people. I was like, "This mother f—– was bigger than any drug dealer, ballplayer anything I have ever seen!"
Troy- Do you remember who that was that night that said, "Throw your hands up in the air"?
Hyde- Love Bug Star Ski!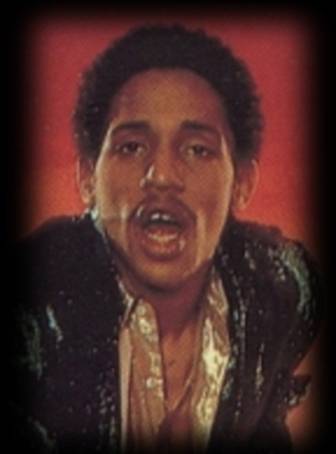 Troy- O.K. I thought that might have been Donald Dee or Bee Fats, but Love Bug was a star up in there as well.
Hyde- Nah this was Love Bug and then he went to my school so I was following this n—- around like a puppy dog. And Love Bug stayed fly he use to come to school driven in an OJ, 98 Oldsmobile! That was his thing he was already like Harlem royalty because of the parties he was doing. He was the first rapper I knew but he was the biggest in Harlem. I would see him in the halls but he was older than me by about a year or 2.
Troy- How old were you at this time?
Hyde- I think I was about 16 and I was just starting to go to high school. So this was about 1977.
Troy- So you never heard anything about hip hop before that, everything else was R&B and stuff like that?
Hyde- Well yeah, see my neighbor whose name is Miriam and she was Spanish invited me and my brother to ice skate when we were young and she was so fine I would go with her anywhere. So from us going Ice skating with her we started digging it so we started going a lot, so much so that we bought hockey skates. It was something for us to do as kids to get out during the winter time. We didn't have any money so we use to sneak over the fence. The foreman of the skating rink got so tired of busting us, you know sometimes you get in sometimes you didn't but if you didn't get in you just waited until the shift changed and then you would try again. So he got so tired of it, at the time the rink had like these giant like horn speakers that you would see on the Mr. Softy trucks or like what the army would have. So the owner would play this rinky dink mall type music, so the foreman made a deal with us, he said, "I will let you guys in free if you guys play the music." We was like, "What, we can get in free and d.j.!"  So we started to d.j. in there and we started bringing all of our crates of music over to the rink.
Troy- So how old were you guys at this time and did you actually have two turntables, speakers and everything else that came with a system?
Mr. Hyde- No we didn't have all that we had to grow into that. What happen was we had one turntable, but we had records like 5th of Beethoven, Trans Europe Express and Barry White, those types of records. We would pick the needle up and put the next record on, that kind of stuff. There wasn't any rapping, known of that kind of stuff. Along with us having a turntable we would also play our tape deck of music. Also it was cold so we d.j.ed inside of a room that over looked the skating rink and what was mostly said was, "And you don't stop, and you don't stop. How's everybody doing out there" etc. It was mostly that but the Foreman was having no rhyming once I got me some rhymes. White people were still coming up in there. Rap was very new and you had children in there so it was a family thing in there. We were like 15, 16 years old.
Troy- So you also took requests from the Ice skaters?
Mr. Hyde- Yeah.
Troy- So once in a while you might get some request for some Burt Bacharach or something like that?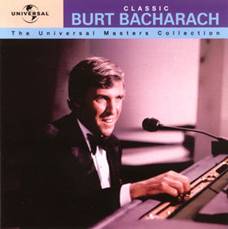 Mr. Hyde- Yeah or something like that, but we would ignore their ass. We were like we're going to play what we want to play, "you in Harlem!" But this was the beauty of it, further downtown in Central Park was the Wolman Rink which was f—ed up, it was f—ed up for years because the city didn't want to fix it up so Lasker was the only skating rink in Manhattan until Donald Trump got involved.
Troy- Yes you are right, the city tried to fix up Wolman but they kept doing it wrong so Trump took over after looking at this eye sore from his window facing the park and he took care of it.  So this was just before you went into high school. Did you hear anyone else playing music out in the street?
Mr. Hyde- No we would go to house parties. Hip hop wasn't started yet, at least not in our part of Harlem.
Troy- So the skating rink was getting pack now?
Mr. Hyde- Yes and we actually got a grant. A guy from The New Yorker Magazine came…and you can do the research on this, we called our selves the Lasker Skate crew, the place was called Lasker Rink.
The Talk of the Town
Jams
by Mark Singer February 6, 1978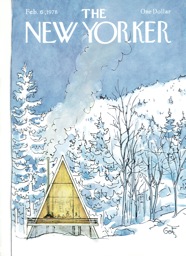 ABSTRACT: Talk story about the Lasker Skate Crew and disco music played at Lasker Rink in the northern end of Central Park. The Skate Crew is a group of Harlem teenagers who help smooth down the ice and run the sound system, which consists of their own record player and records. James Brown, the unofficial crew leader, told the writer he plays the music people like. One hundred people were out skating, moving with the music, which was heavy on the percussion. Writer talks with several crew members and records many of the current popular songs. Writer also visits Wollman Rink in the southern end of the park, where the crew would not be caught dead, and where the music is taped organ arrangement.
Mr. Hyde- So we use to just skate all the time and we use to get high smoking dust and get on the ice and skate.
Troy- So you guys rock the skating rink and you get super open going up to The Renaissance to see those guys play, what followed?
Mr. Hyde- Well I went home and I started to write my rhymes. I would take instrumentals like Barry
Whites records or whatever I could find and take the needle back every time he started to sing and write my own rhymes. Then I would rehearse them in the mirror, you know s— that kids do now I was doing back then, but n——s thought I was crazy. Like I would be walking down the street talking to myself, or talking to myself on the train, you know s— like that. At that time we had a community center called the sweat box in Clinton Projects, building 1505.  My man Champ who was the promoter of the sweat box and that was because his mother had the key to the place because she worked for housing. So he use to throw parties in this joint. There was nothing in this place but they use to kind of d.j. and whatever. I begged my mom's to buy me a microphone and I got up on a school chair and started rapping and this was the first time I ever did it out side of my room and this wasn't with Dre or nothing, this was just me. So after that I just started going and going and going. I got so good that Champ had to start paying me and then I met Andre in high school.
Troy- So you guys didn't know each other before Hughes?
Mr. Hyde- No, what happen was Andre was in my brother's technical electricity class in high school and that was how we met. I found out Dre was listening to rap up in the Bronx. He had the opportunity to listen to guys like Busy Bee, Bam etc. because he was from Bronx River. So Andre had a love for the music as I. So we use to cut classes and play spades in the lunch room, that's how we really got tight.
Troy- I'm going to front I use to love playing spades in Brandies high. I guess all schools played cards in the lunch room back then.
Mr. Hyde- Right and it probably still goes on today in schools. So from there we started talking about music and everything connected to rap. We use to compare each other's rhymes although I don't know what he was doing as far as what clubs he might have been hitting at the time, but he loved rap, so we would rhyme together in the stair cases and from there we decided we were going to make up a group.
Troy- O.k. so now you over there in Clinton Projects but for some reason I always thought Andre was from over there as well.
Mr. Hyde- Well you know why because hip hop was really starting to happen downtown in Harlem by this time. I guess it wasn't really happening for him in the Bronx or he just didn't want to deal with it, plus my mom's cooked great lasagna. This dude would come down and hangout all day, and for him Harlem was the fly s— not the Bronx. So the aspiration of wanting to be downtown, hip hop gave him the avenue for that plus we had the center. We moved from the sweatbox to another center in Clinton Projects. This community center was right behind my building. So once that opened up we had our own home, we use to be their every weekend and pack it with n—— from Lehman, Johnson and Clinton projects.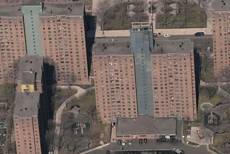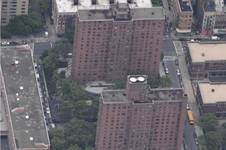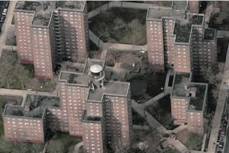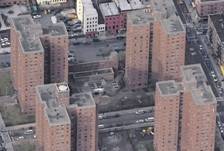 Troy- Taft and King Towers as well?
Mr. Hyde- All that.
Troy- Schomberg?
Mr. Hyde- Schomberg for sure, Schomberg had the girls. That's where we met D.J. Spivey and the rest of his crew the M7 short for The Magnificent 7.
Troy- So when you first started hanging out with Andre did you go up to the Bronx as well to hangout?
Mr. Hyde- Sometimes.
Troy- So how did you feel about the sound being as you coming from Harlem and people are saying it started in the Bronx?
Mr. Hyde- It was alright but to me it wasn't as cool or as sexy. Later on we battled up in the Bronx. At one point we were D.J. A.J.s M.C.s and I remember one night doing a gig at Mitchell gym and we battled Flash. It was me, Busy Bee and Andre battling Flash and The Furious Four and immediately gun shots rang out. See the Bronx was scary, that s— was still burning! You ever heard of that saying? N—– it was still burning so you had to really be careful, the Bronx was the most violent borough in the history of mankind!
Troy- (Troy busts out laughs.) You know a lot of people would have said Brooklyn but I understand where you are coming from.
Mr. Hyde- Shiiiittt, I use to walk down the street in The Bronx were whole blocks were gone except for one building and that was burnt out.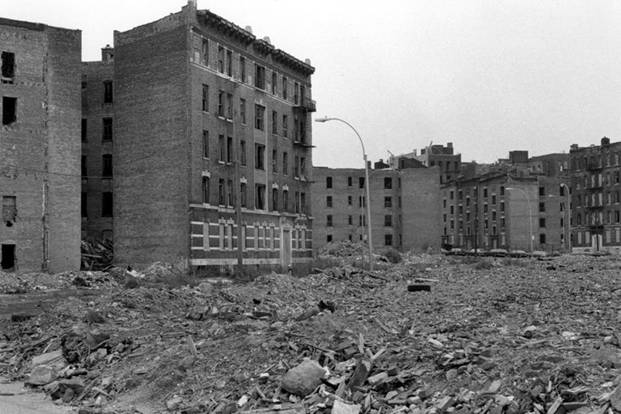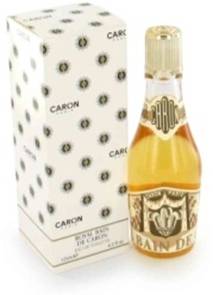 Maybe it was in Brooklyn but I certainly wasn't going to Brooklyn, there was no reason for me to go to Brooklyn. I was from Harlem and Harlem was right. Harlem would definitely scare you but Harlem had everything you needed close by.
Troy- Harlem was like a great big mall itself!
Mr. Hyde- Yes, you could jump in an O.J. from 110th street to 125th street and you in the mix. You could go to A.J. Lester (infamous men's clothing store in Harlem.) and get your champagne cologne. Where you going to do that in the Bronx?
Troy- Damn Champagne Cologne that's right.
Mr. Hyde- I got a bottle of Champagne about a month ago I was in this club and this girl who is a friend of mine she was like you want some cologne I was like yeah o.k. she opened up a box of champagne cologne I was like n—– give me that s—!
Troy- Yeah that was a nice joint. Polo and Royal Copenhagen were my favorites back then.
Mr. Hyde- Yes all that and Lagerfeld. But Polo was it.

Troy- That is correct I wore it practicality every day in high school.
Mr. Hyde- Let me tell you something you could wear it right now and no one would know what it is.
Troy- No doubt but the thing is is you have to get the right bottle, because if you go to the wrong store it doesn't smell the same as if they cut it wrong.
Mr. Hyde- You have to go to department stores to buy that right.
Troy- That's right and the best place for that would be Macy's and maybe Bloomingdales.
Mr. Hyde- You go down to say like 28th street you are going to get had.
Troy- Yeah that's the bootlegging snake's location. Even if you go to a drug store it is cut wrong.
Mr. Hyde- Yes your right.
Troy- Alright so what solidified your relationship with Andre that you were going to be Dr. Jekyll and Mr. Hyde and where did the two of you get the name?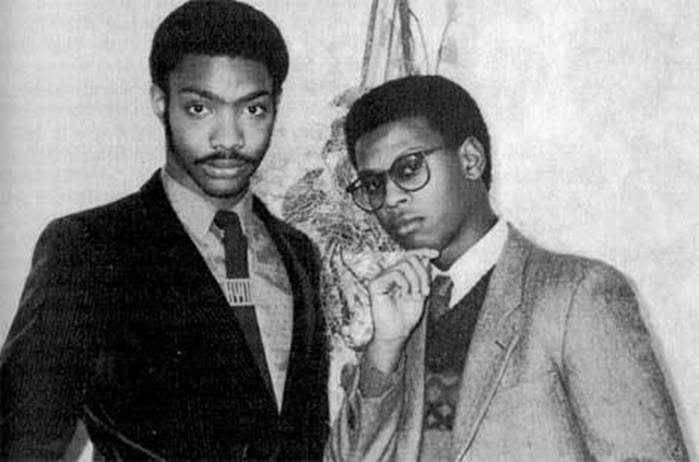 Mr. Hyde- Well for one we shared the same passion about hip hop, we both loved it and he was doing his thing in the Bronx. The thing that we had in common was he was in my brother's class, like I said he introduced us and we also use to play spades together in the lunch room that really solidified everything for us. And see the thing is we were both young kids who had aspirations for a better life. As far as our name what happen was we were in the stair case talking about who we were going to be, Andre D and Ronnie B and all this s— but it just didn't ring, Batman and Robin, nothing hit the way we wanted it to. Finally we were like Dr. Jekyll and Mr. Hyde and we were like oh that s— is a cool name. He was like I am going to be Dr. Jekyll I said o.k! I felt the only way this was going to be Dr. Jekyll and Mr. Hyde was if I was going to be Mr. Hyde and that was because I thought he was the cooler of the two because he was the mean, evil one.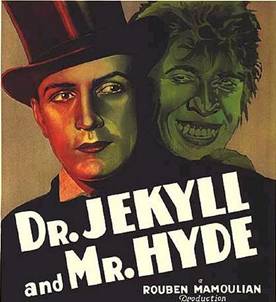 Troy- I got you, but to be honest you and Andre never did any routines pertaining to that type of persona.
Mr. Hyde- I know you are right, it's interesting.
Troy- So did you and Andre leave together to go to Franklin high school?
Mr. Hyde- No, I was a truant. I was so into hip hop that I just didn't care about school anymore. I was cutting class so sooner or later they were going to kick me out. My mother was a teacher's aid and she was serious about education so she was like n—– you going to school. So she got me into Franklin, and that was because it was closer to home.
Troy- Did it help a little?
Mr. Hyde- Yeah, but Franklin was like worst then Hughes as far as the grade point average for the entire school was concern. They had one of the worst scores in the whole city.
Troy- But all the ball players were there.
Mr. Hyde- That's right Gary Springer, Steve Burt and the rest of them. But as far as Andre he stayed at Hughes and graduated.
Troy- So there was no hustling aka selling drugs for you?
Mr. Hyde- No I never sold any drugs. My mom's was a single mother and not that she was strict but I always loved my mom's so I never wanted to disappoint her. See I watched my father die in front of me so my mother went through a lot of pain and loneliness. It also changed my life were as one day I have a father and the next day at 12 years old my father is dead and gone.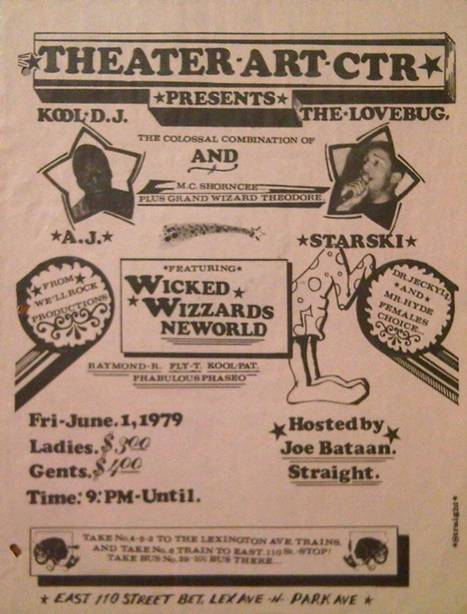 As far as me and Andre we stepped our game up as Dr. Jekyll and Mr. Hyde after high school when we met D.J. Louie Lou who was a big D.J. in Johnson Projects. Louie Lou had equipment so we use to go to his house to practice. He was like "yo I will pay ya'll" and he would hit us off. So we would do park jams and basement parties with Louie Lou. But the thing about him is he was cheap and we still carried the equipment. But because Louie Lou was a bad mother f—– on the turntables we use to be on fire. See my brother was cool but he wasn't a d.j., he didn't love it like Louie Lou did and like I said Louie Lou had equipment. So the game went from the Los Angeles Clippers to well it wasn't the Lakers but like the Denver Nuggets. (Carmelo with Billups at the point.)